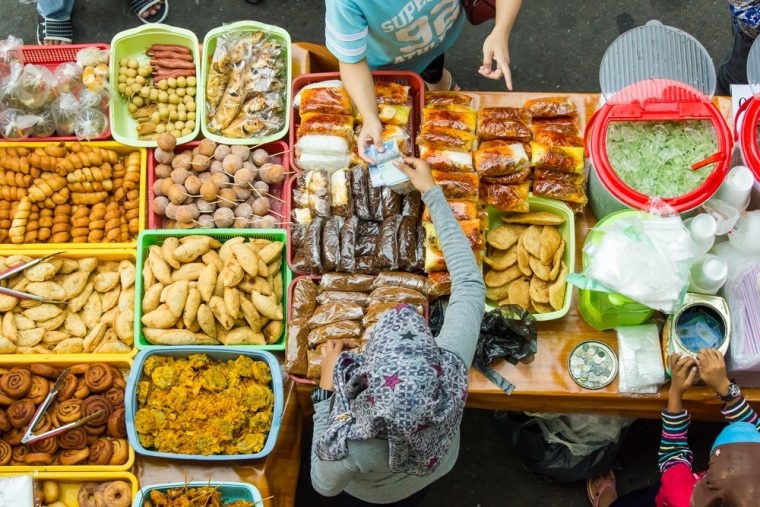 The first time I heard about Jobbie Nut Butter, I actually assumed that it was some fancy foreign brand. 
One of the trainers at my gym said that I needed to have a healthier breakfast and mentioned that if I really couldn't bring myself to give up on toast, I should at least switch to a healthier brand. I looked up the name later, expecting to find some super high-class imported peanut butter made in France or something. 
But as it turned out, Jobbie Nut Butter is actually a Malaysian company. They're a start-up dedicated to selling their healthy yet delicious peanut butter. They've been in business since 2015 – growing from a small stall into a… still pretty small company (they've only got 6 employees!). The packaging looks nice and the peanut butter itself is great, but it's all made from scratch right here in Malaysia. I made a note to try out one of their products when I had some time and ended up putting it to the back of my mind. 
Truth be told, I actually forgot about the name Jobbie until one of their posts popped up on my Facebook feed sometime in April. 
Desperate Times Call For Desperate Measures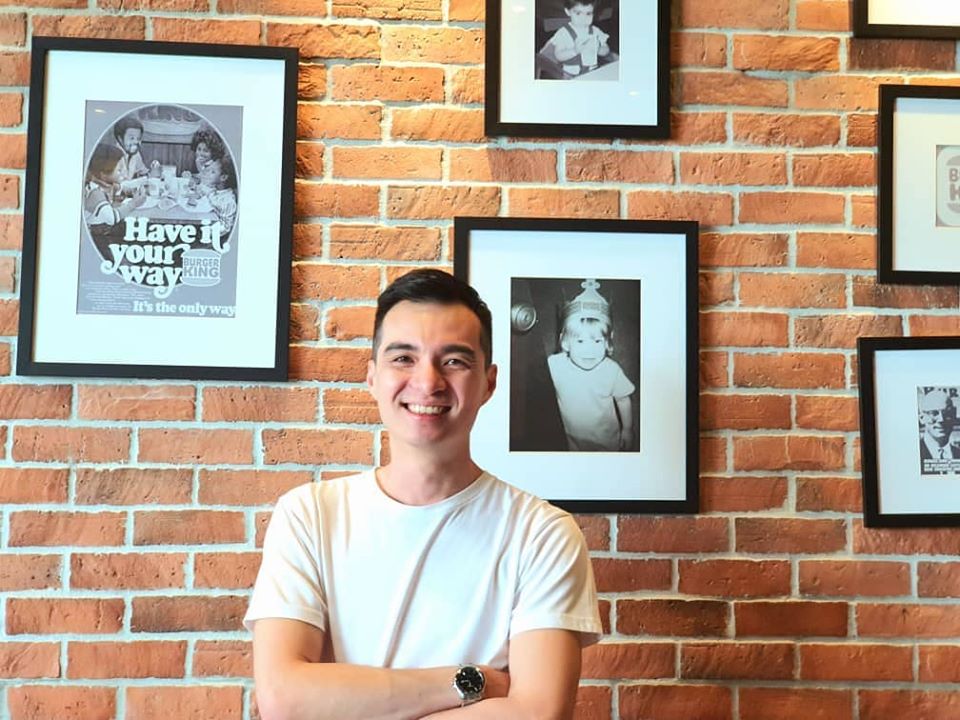 In the post, Jobbie said that they were on the verge of bankruptcy and pleaded with their customers to pre-order some of their peanut butter so that they could survive. 
"Due to the lockdown, all of our suppliers have closed down. Suppliers for the raw peanuts, glass bottles, label stickers, boxes, you named it they closed it. We tried many options and wanted to collaborate and help out all the other desperate SME's like us. Unfortunately, despair was the only thing we saw in their eyes as some silently count the days to their demise…It made us think, ARE WE NEXT?"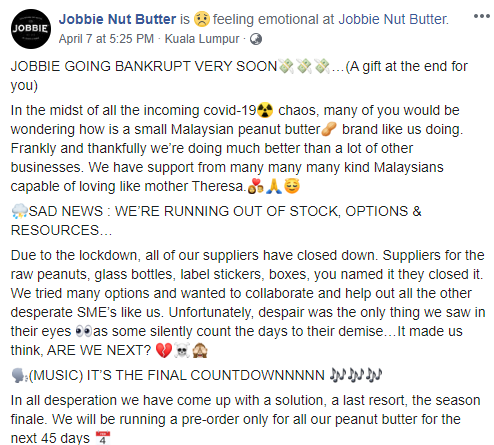 With no stock, no suppliers, and no funds, Jobbie's last hope was a pre-order sale; they promised to deliver every bottle of peanut butter to their customers within 45 days, with a complete refund if they failed to do so. 
After seeing the post, my own family ended up ordering no less than four bottles from Jobbie. While I personally wasn't sure whether or not they could make the order, at the very least I wanted to give them a chance and help out a small local company. 
But Why Is Buying Local So Important?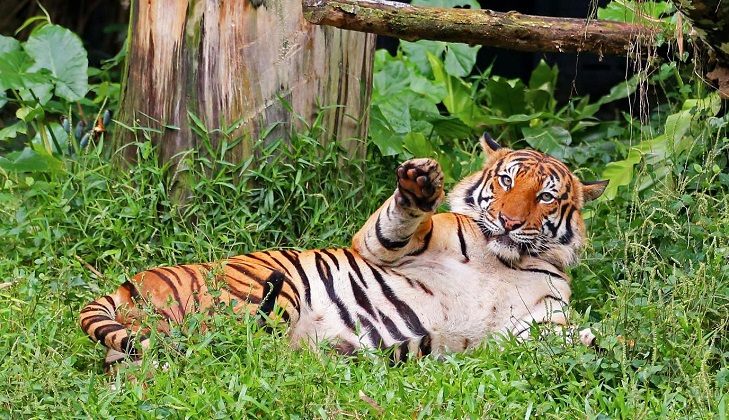 Because Jobbie aren't the only ones struggling. Countless Malaysian companies all over the country have been struggling to survive during the MCO period, with everyone from humble Ramadan stall owners all the way to big companies asking for financial help. 
Heck, even Zoo Negara had to ask for donations!
In the middle of April, Zoo Negara's Zoology, Veterinary and Giant Panda Conservation Centre director Dr Mat Naim Ramli thanked those who had helped by donating to their animal adoption program. 
"One person might just donate around RM10 to RM50, but the volume is high, with around 20,000 to 30,000 individuals coming forward," he said. "The public has been very generous, as we have received thousands of emails expressing interest in the programme, and hopefully, we can continue the adoption programme even after April." 
Zoo Negara is Actually One of the Lucky Cases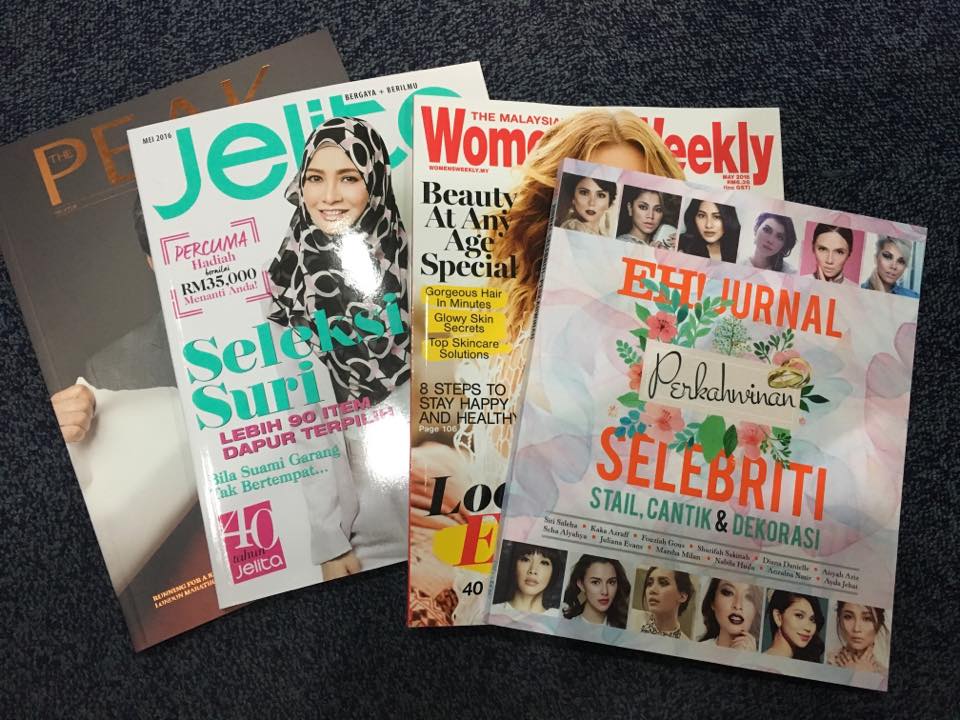 Many other companies have had to fold over the past few weeks, one of the biggest of which was magazine publisher BlueInc Media Sdn Bhd. Known for producing magazines such as CLEO, HerWorld, Jelita, and Marie Claire, they officially closed on April 30 due to challenges arising from COVID-19. 
"While we had made increasing investments to build our digital capabilities, it was still unclear whether we had gained sufficient traction while the losses continued to increase," explained chief executive officer Datin Aziliza Tajuddin. "With the current movement control order (MCO) to contain COVID-19, the losses continued even more for the months of March and April, and this trend is expected to continue for the next few months."
"It is uncertain that we will be able to see any light at the end of the tunnel."
So How Can We Help?
Want to support local businesses, but not sure what to do? Don't worry, we've got a few easy tips to help you get started. 
1) Grab Your Ramadan Treats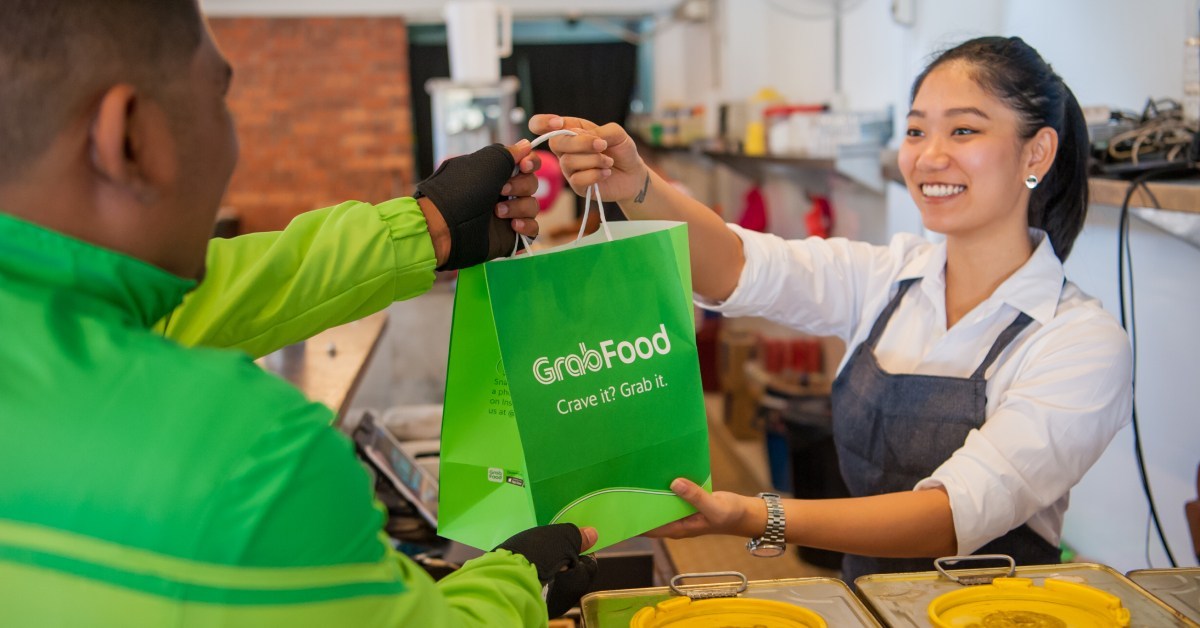 By now, we all know how important deliveries have been for traditional restaurants or cafes. But if you're missing all those delicious Ramadan goodies, you'll be pleased to know that Grab is actually doing an "e-bazaar" – providing the public with the chance to order their favourite festive treats online. 
"Each year, micro-entrepreneurs and social sellers look forward to the season as their busiest period. They participate in their neighbourhood Ramadan bazaars, and organise pop-up stores across our cities. But without a physical presence this year, they may not yield the same sales as before," said Sean Goh, Country Head of Grab Malaysia. "Therefore, we want to support them to go cashless and expand their reach to millions of Grab users and use our ecosystem with services like GrabPay, GrabFood and GrabExpress to help them continue to thrive and deliver their goods directly to Malaysian homes, be it bazaar favourites, cookies or Hari Raya outfits."
So how can you help? Simply download the Grab app and go to the eKitchen Bazar section to choose from a wide variety of classic Ramadan meals. Every dish you buy helps support local entrepreneurs who would otherwise struggle to get by during this period.  
2) Consider Local Producers First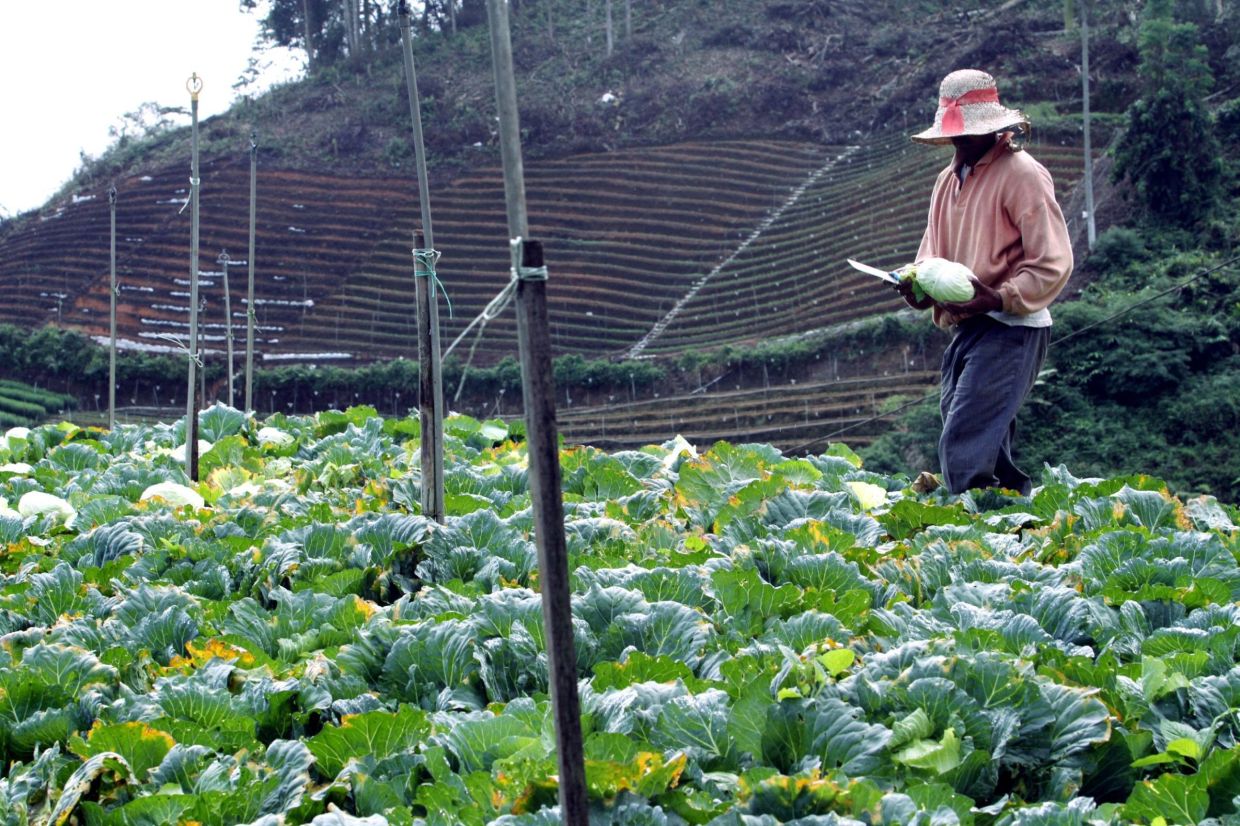 If you're looking for fresh fruits and vegetables, skip the supermarket trip and pay a visit to Lazada's website instead. They've set up an online marketplace where you can get the fresh produce you need directly from the Malaysian farmers who grow it. 
According to Lazada Malaysia's CEO Leo Chow, the e-commerce platform was inspired to help after learning about how Cameron Highlands farmers were being forced to throw away their fresh produce. "Lazada read about Cameron Highlands farmers who had to throw away their fresh produce due to supply chain issues during MCO. We immediately reached out, figured out the tech and logistics, and got them onto the Lazada platform in less than 48 hours."
Due to the success of their Cameron Farmers section, Lazada have also created the MyFishman seafood section and Mymarket2u everyday groceries section.
If you're planning to stock up, you can download the Lazada app for free on both iOS and Android.  
3) Shout Out On Social Media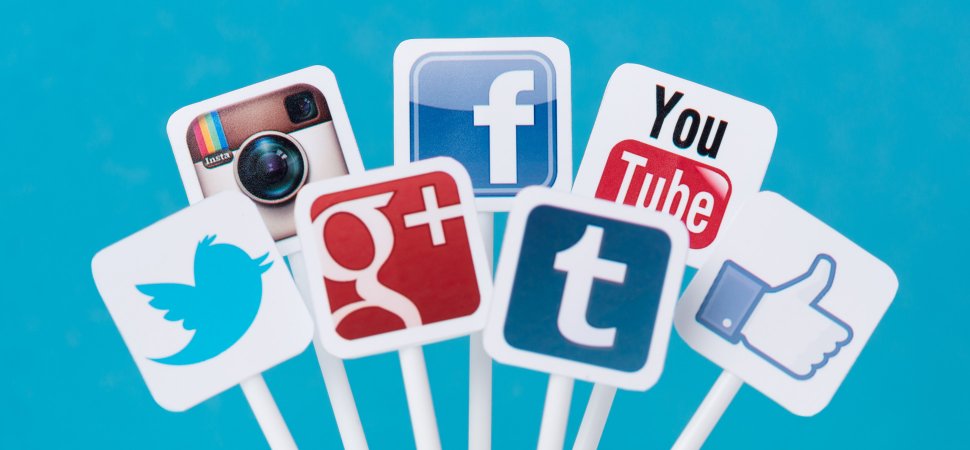 Even if you don't have any extra money to spare, there are still ways to help your favourite local business. Due to social distancing, more and more people are spending most of their time on their phones or computers, meaning that social media is getting more attention than ever before. 
Many SMEs rely heavily on social media in order to spread awareness about their products and services. By doing things like posting up reviews of local businesses or sharing their posts, you're helping to spread their name; making it easier for potential customers to find them. 
It may be surprising to learn, but liking and sharing a company's posts can actually help them stay afloat, especially if they are a start-up or SME. 
Betraying My Asian Heritage Has Never Tasted This Good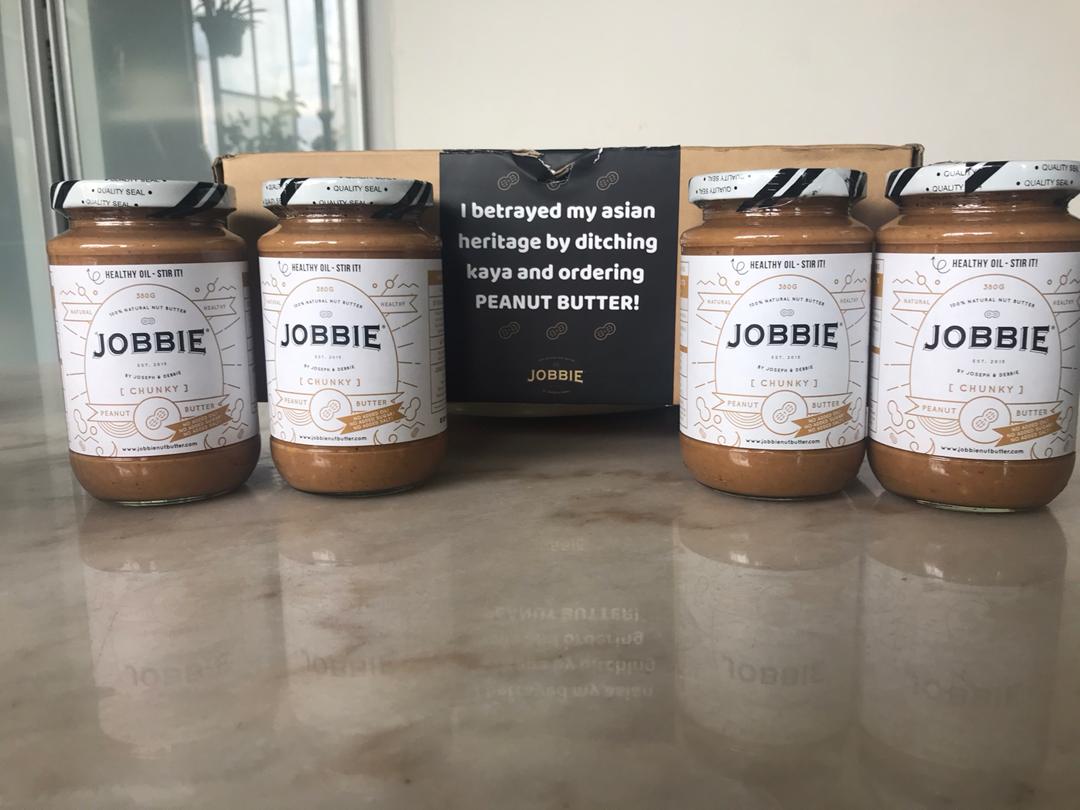 Yesterday morning, we received a message saying that one of our deliveries had arrived. To be honest, none of us were sure what it was for – my mum asked if I had ordered a lunch delivery, while I wondered if my mum had bought some groceries and forgot to tell us. 
As it turned out, our Jobbie peanut butter had arrived. Four bottles of chunky, homemade goodness arrived in a cheekily-labeled box. We opened up one of the bottles straight away, and I have to say that the taste was definitely worth it. 
Today, Jobbie is still in danger, but thanks to the support of my family and countless other peanut butter fans across the country, at least now they'll have a little breathing room for the next month or two. 
The economic impact of this MCO period is something that will be felt for many years to come. One way or another, we are all suffering from this lockdown. By standing together as a nation (but not too close – remember your social distancing!) and supporting each other can we all get through this difficult time. 
That said, we're already seeing signs that the situation is improving. The number of COVID-19 cases is beginning to drop, and the government is even slowly lifting restrictions by enacting a CMCO. 
While this journey is far from over, I would like to think that the worst is now behind us. Though the road ahead may still be long and perilous, we will one day be able to leave our homes and enjoy our daily lives without having to fear for our safety. 
In the meantime, if you live near the Ara Damansara area, don't forget to check out our list of local F&B outlets where you can get your buka puasa treats. For more information, you can also follow our Twitter to keep up to date with all the latest news and events.