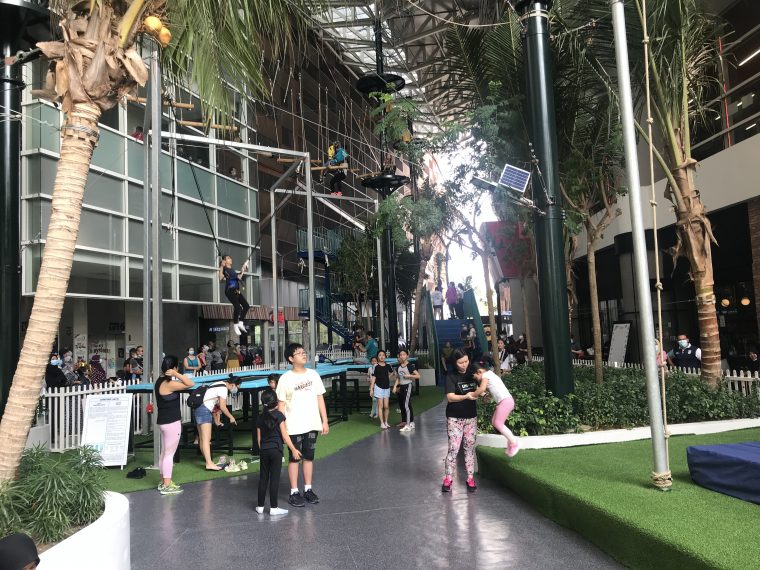 "I can't!" my sister cried, inching away from the edge. "It's too high up! I'm scared!"
"Oi! Hurry up lah!" I yelled, standing at the landing platform several stories below. "Why're you taking so long? You want me to come up and push you, is it?"
Before anyone rushes off to call the cops, I should probably explain the situation. 
The date: 16 September 2020 — a public holiday. 
The time: Around 3pm. 
The location: ESCAPE Theme Park, Petaling Jaya.
What is ESCAPE?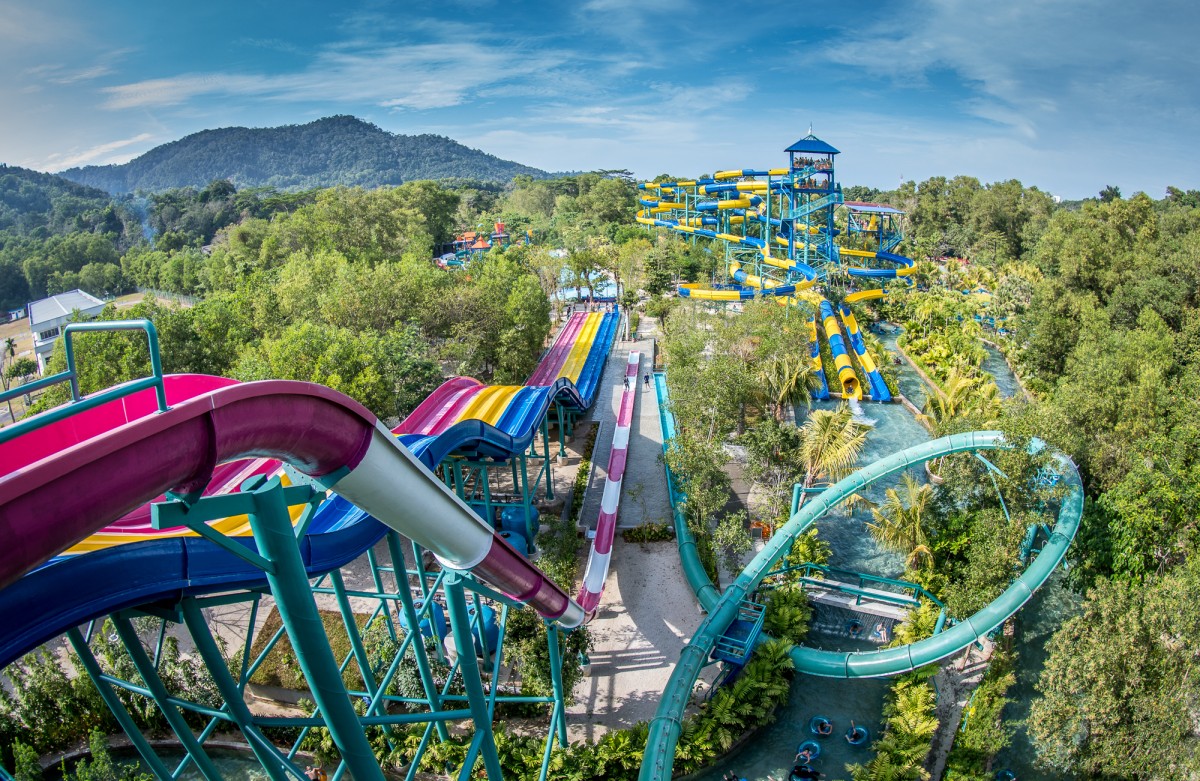 For those of you who don't know, ESCAPE is a popular theme park that's rather well-known for their family-friendly rides, their adrenaline-pumping activities and their amazing water park — which also happens to contain the largest water slide in the world. 
The only problem? They're in Penang of all places. Penang. 
Bad enough that they hog all the nice char kuey teow and laksa, but now they're forcing Klang Valley residents to drive all the way up north just to enjoy this theme park. It's a conspiracy, I tell you! 
Fortunately, the guys behind ESCAPE have seen the light, and have recently opened a brand new theme park right here in the Klang Valley. Interestingly enough, while the original ESCAPE Penang is a sprawling and expansive outdoor park, this newer branch is a relatively compact indoor theme park — located smack dab in the middle of Paradigm Mall, Petaling Jaya.   
Obviously, I had to give it a try. The fact that I had to babysit my 14-year-old sister was a small price to pay.
Preparing to ESCAPE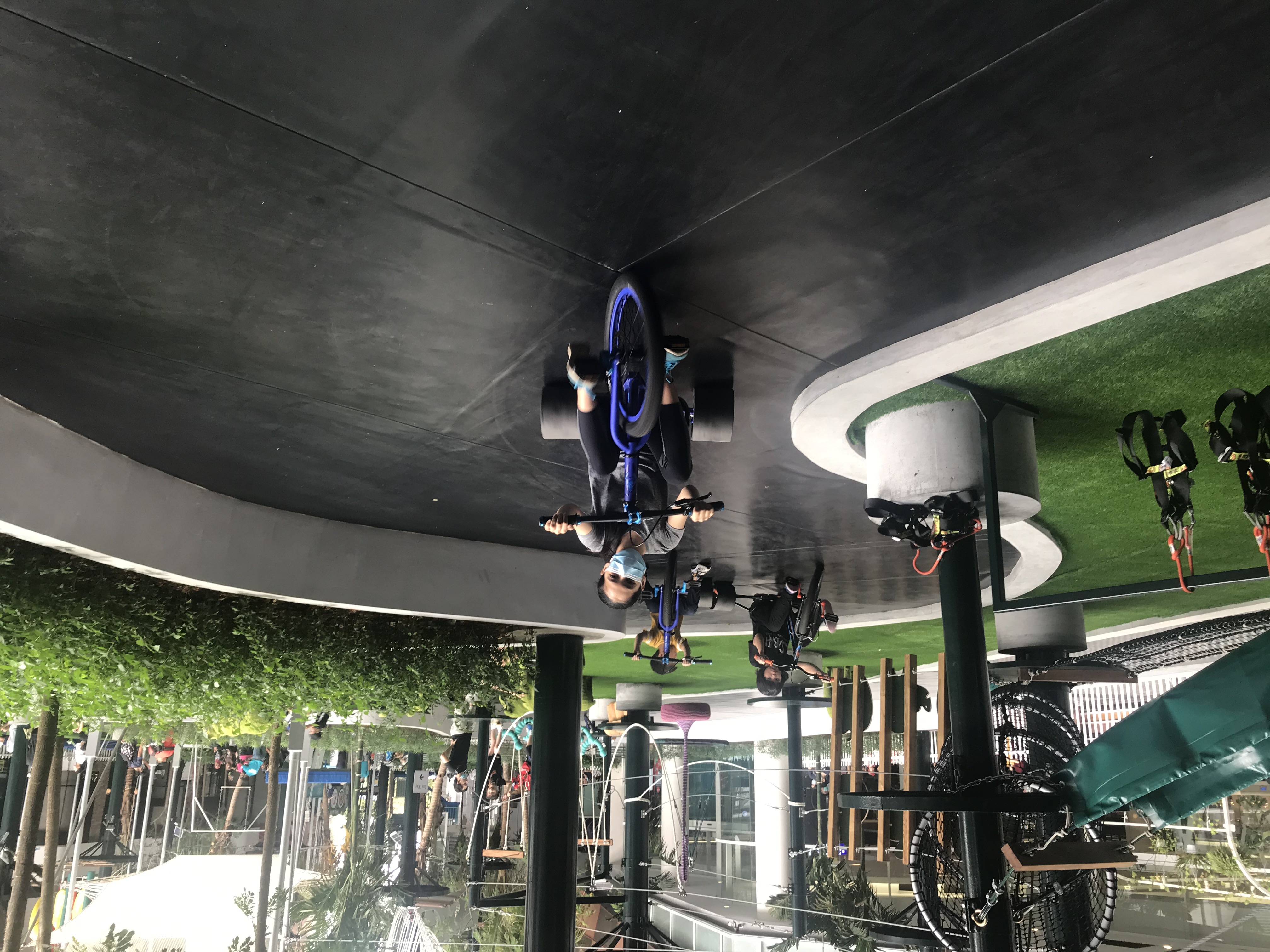 Considering that it's in the middle of a mall, getting to ESCAPE Petaling Jaya isn't going to be that hard. Finding a parking spot, on the other hand, is a real pain, especially on a public holiday. Don't be like me — come in early or be prepared to spend way too much time stalking people in the parking lot to try to steal a spot. 
If this is your first visit, I'd definitely recommend getting an online ticket via their official website. It lets you skip the line and get straight into the park (though you still need to get your temperature scanned before they'll let you in). 
Unlike ESCAPE Penang, you can walk from one end of this park to the other in just a minute or two, which makes for a rather different experience. On one hand, there are fewer activities available (I was especially disappointed to realise that there were no water slides). On the other hand, there's no waiting in line for hours under the hot sun or having to cancel because of rain.
Once you're inside, make a hard right and head straight to the lockers. It costs an extra RM10 to rent a locker, but it's basically mandatory unless you have a designated group Mum who's willing to jaga all the stuff while you have fun. 
If you happen to be the group's Mum, don't worry! There are plenty of benches scattered around where you can sit down and relax… alternatively, you can just abandon your kids with an unwitting chaperone while you go shopping in the mall.  
Escaping Your Problems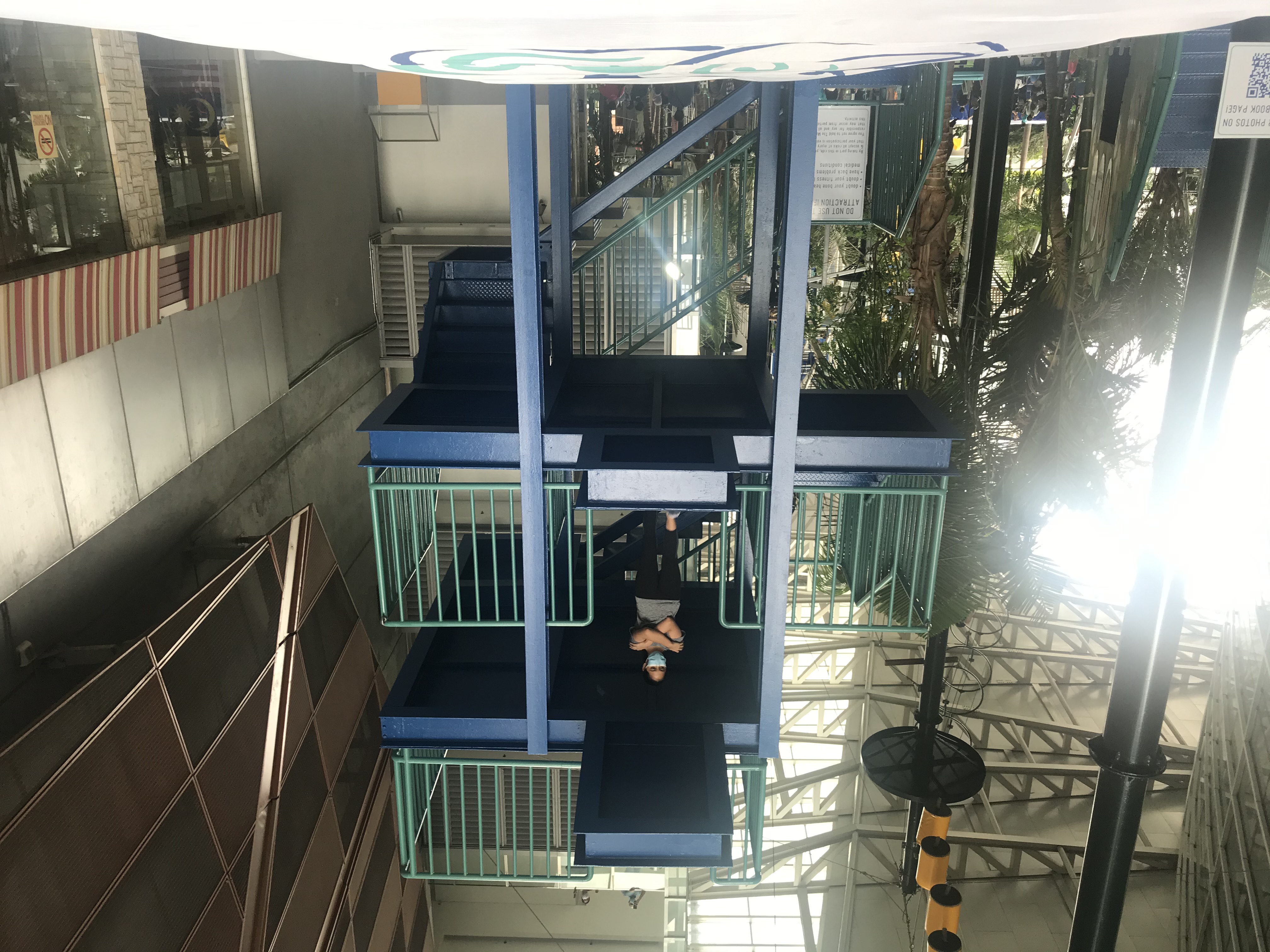 The theme behind ESCAPE's design can be summed up as "simpler times". All of the activities are meant to bring back nostalgic memories or provide a glimpse of how kids used to have fun back in the days before the Internet and computer games. 
Every single activity has a little sign next to it explaining not only basic safety information like the minimum weight/height, but also the ideas and experiences that inspired it. For example, the sign near the Airbag explains that it was inspired by how kids love jumping onto haystacks, while Monkey Business is meant to recreate the feeling of climbing from tree to tree.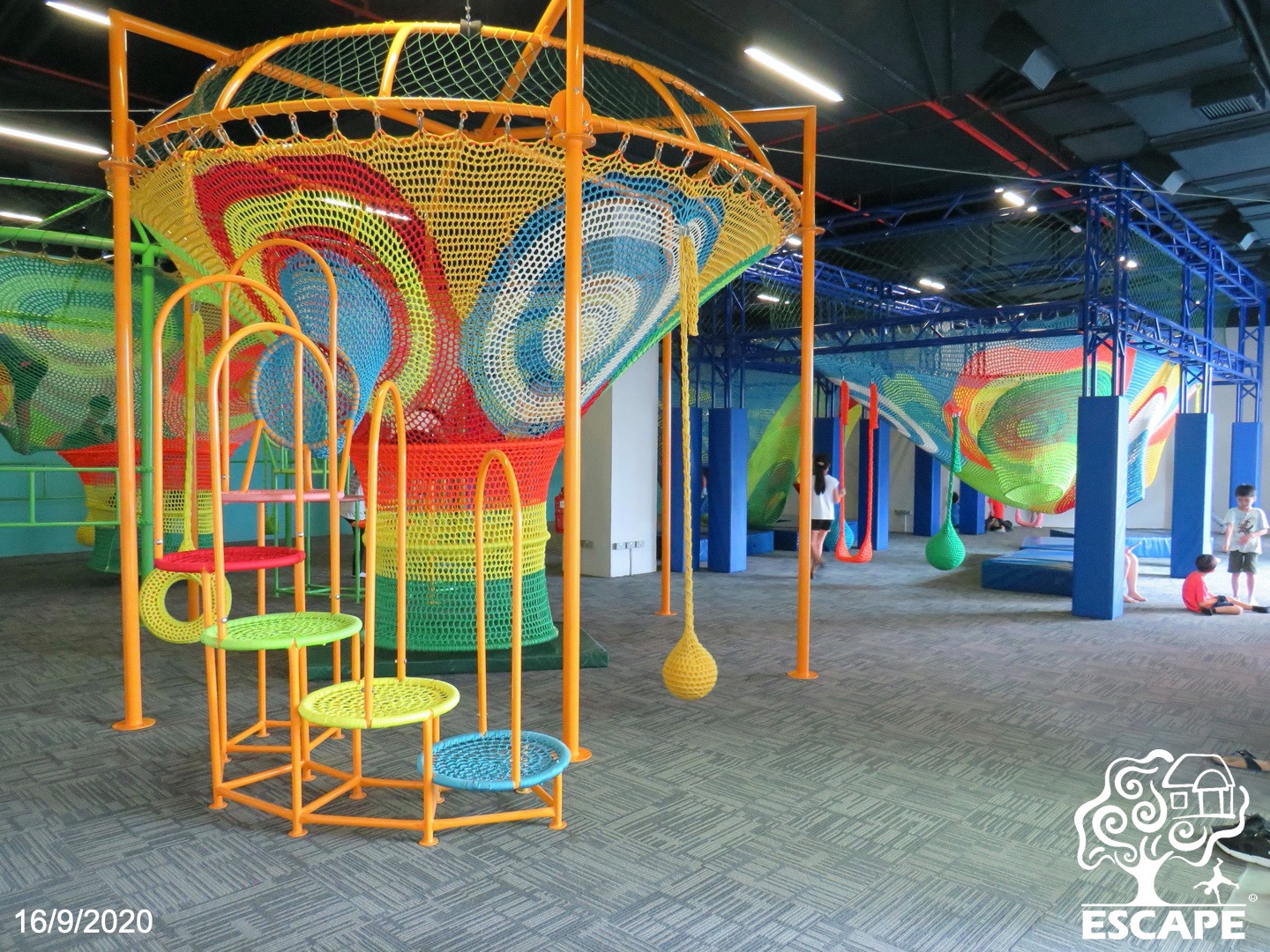 One of the things that makes ESCAPE so unique is that it's designed from the ground up for healthy, active young people. Almost all of their activities involve some form of physical exercise, so be prepared to sweat. 
A lot. 
In other words, it's great for active people or kids who have a lot of energy to burn, but if you're older or have physical problems, there's not a lot that you can do here. 
Parents might be pleased to learn that there is a special indoor playground for smaller kids — it's even air-conditioned!  
So What Can You Do in ESCAPE?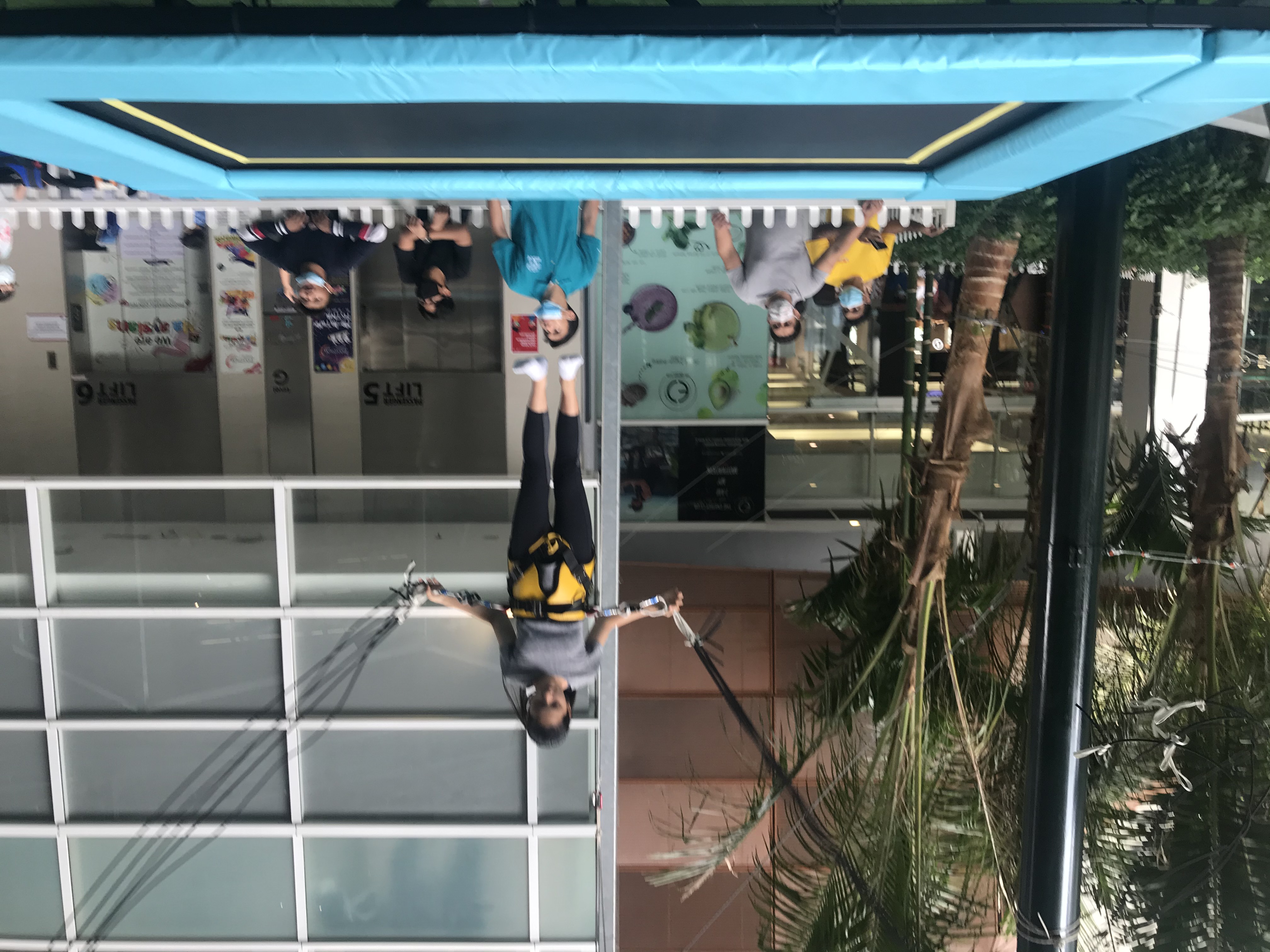 So, you've bought the tickets, you've gotten scanned, you've dumped all your stuff into a locker… What's next? 
Well, if you're anything like us, you'll immediately head towards the big tower which contains three of the park's most popular activities: Monkey Business, Atan's Leap and Banana Flip.
Then you'll see the lines, decide "Eh, we'll come back later" and head straight to the opposite side of the park (accessible via a bridge). 
Despite the park's relatively small size, there are a surprisingly good variety of activities that you can try here. Below are some of the highlights:
Monkey Business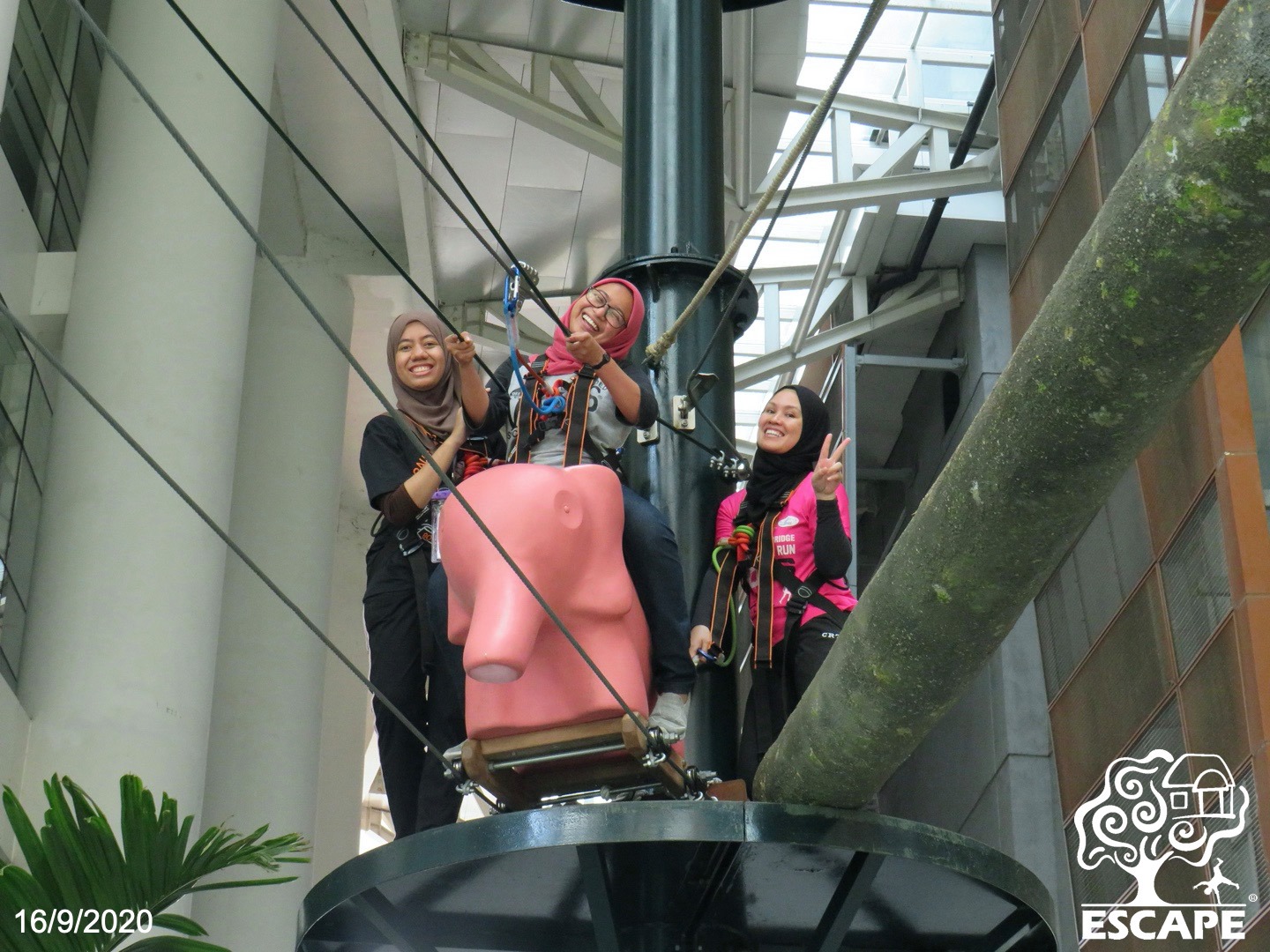 The main highlight of the park, Monkey Business involves being strapped onto a rope and going through an obstacle course while hanging way up in the air. There are three different levels, each with their own difficulty level and obstacles such as wooden bridges, ziplines and even Tarzan-style rope swings.
Pro tip: Start out with the lowest difficulty level first and then work your way up. It'll take around two hours to go through everything, so there's no need to rush.  
Gecko Tower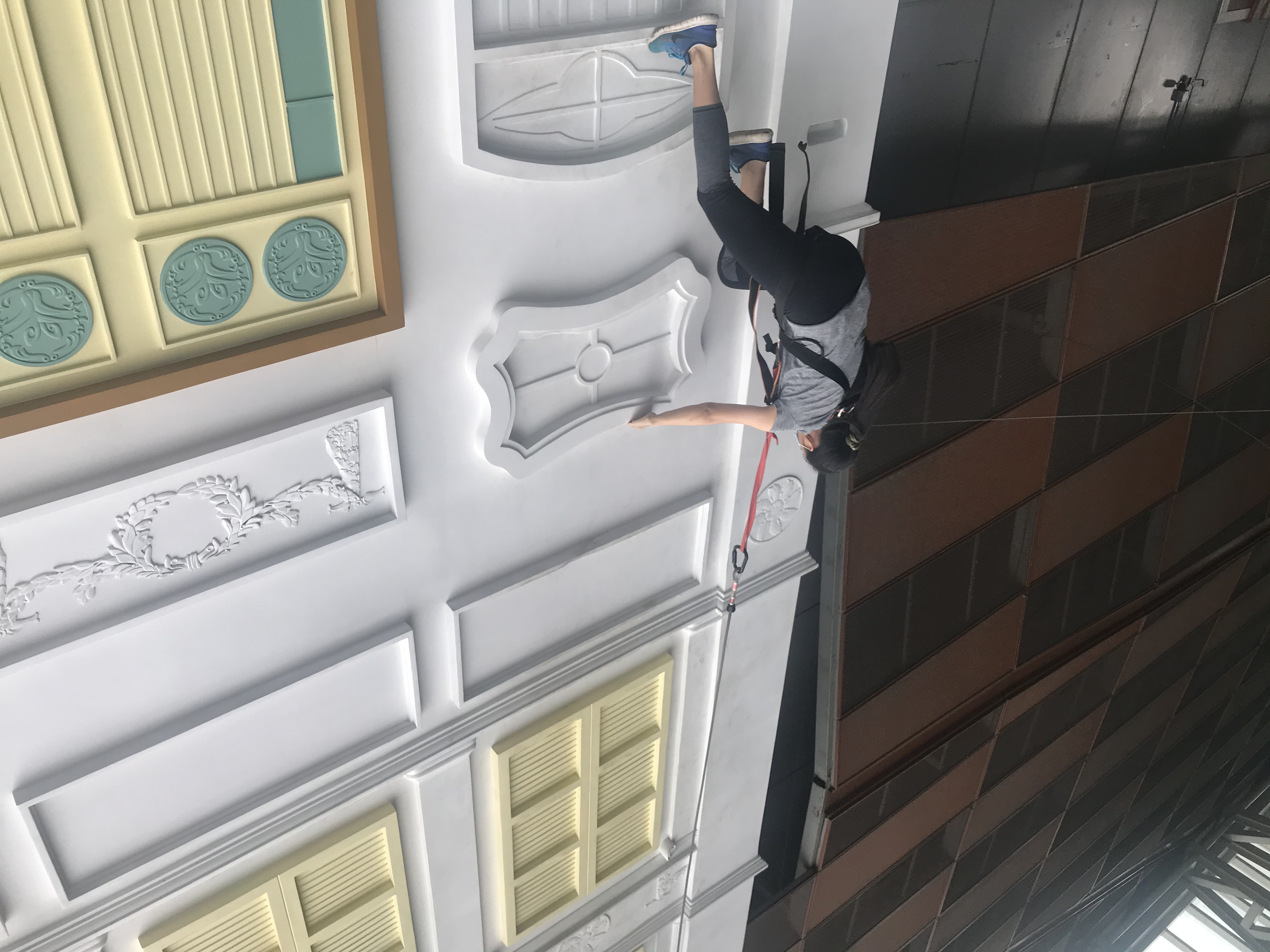 Remember the good old days when you could climb up to your house and hang out on the roof?
Well, now you can relive those golden years without having to worry about being yelled at by your parents afterwards. Gecko Tower is designed to look like the exterior of an old-school kampung house, though with the addition of a more modern auto-belay system in case you lose your grip. Get to the top, ring the bell and try not to freeze up in fear on the way down. 
Slingshot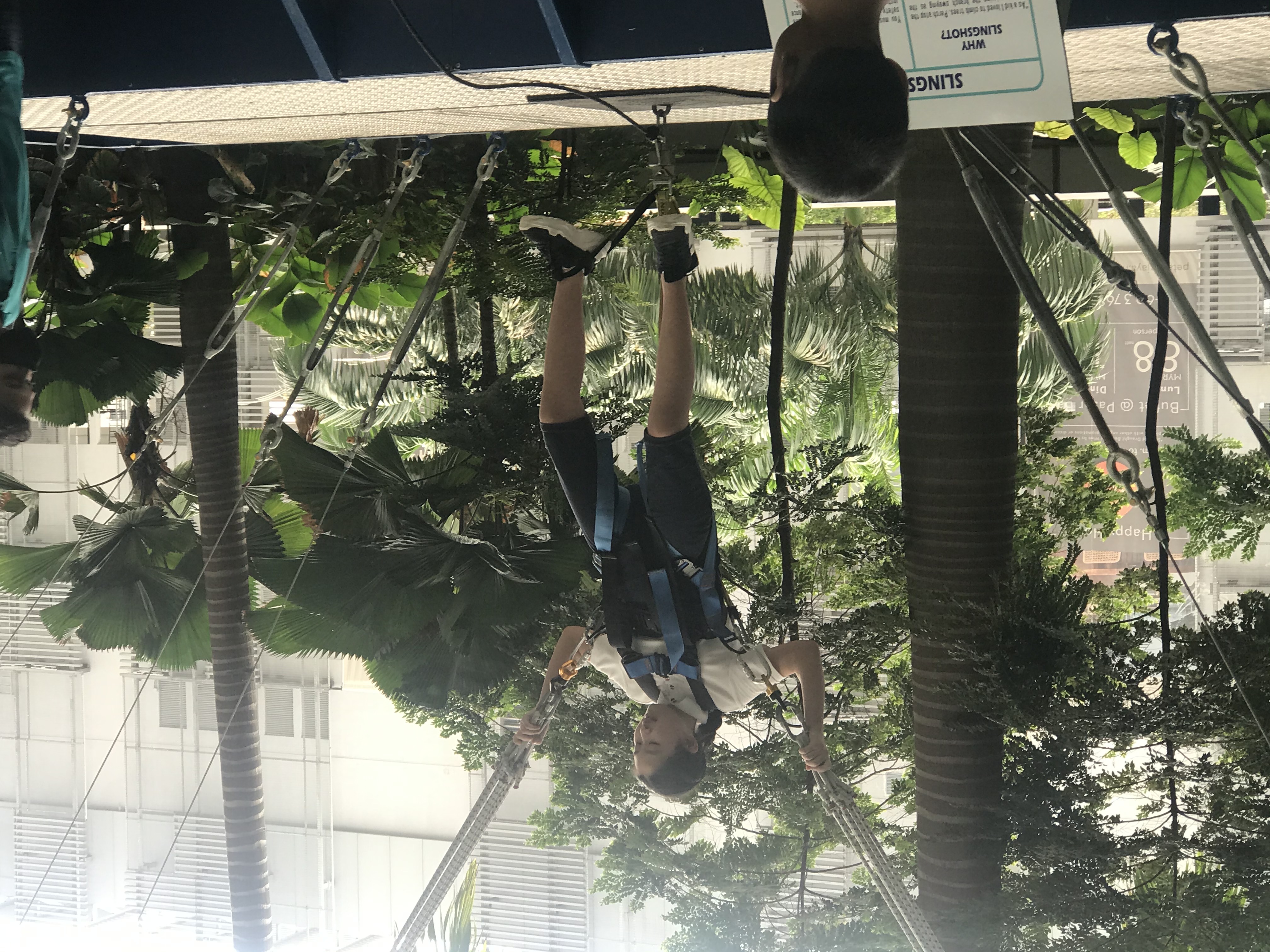 Too scared to climb up a tower? Well, you can still prove your bravery by getting launched into the air like a human slingshot. 
From our experience, the fun of this activity can change depending on how much you weigh. Too light, and you barely get any airtime. Too heavy, and you might get launched up like a rocket ship. For bonus points, try doing a backflip while you're up there. 
Banana Flip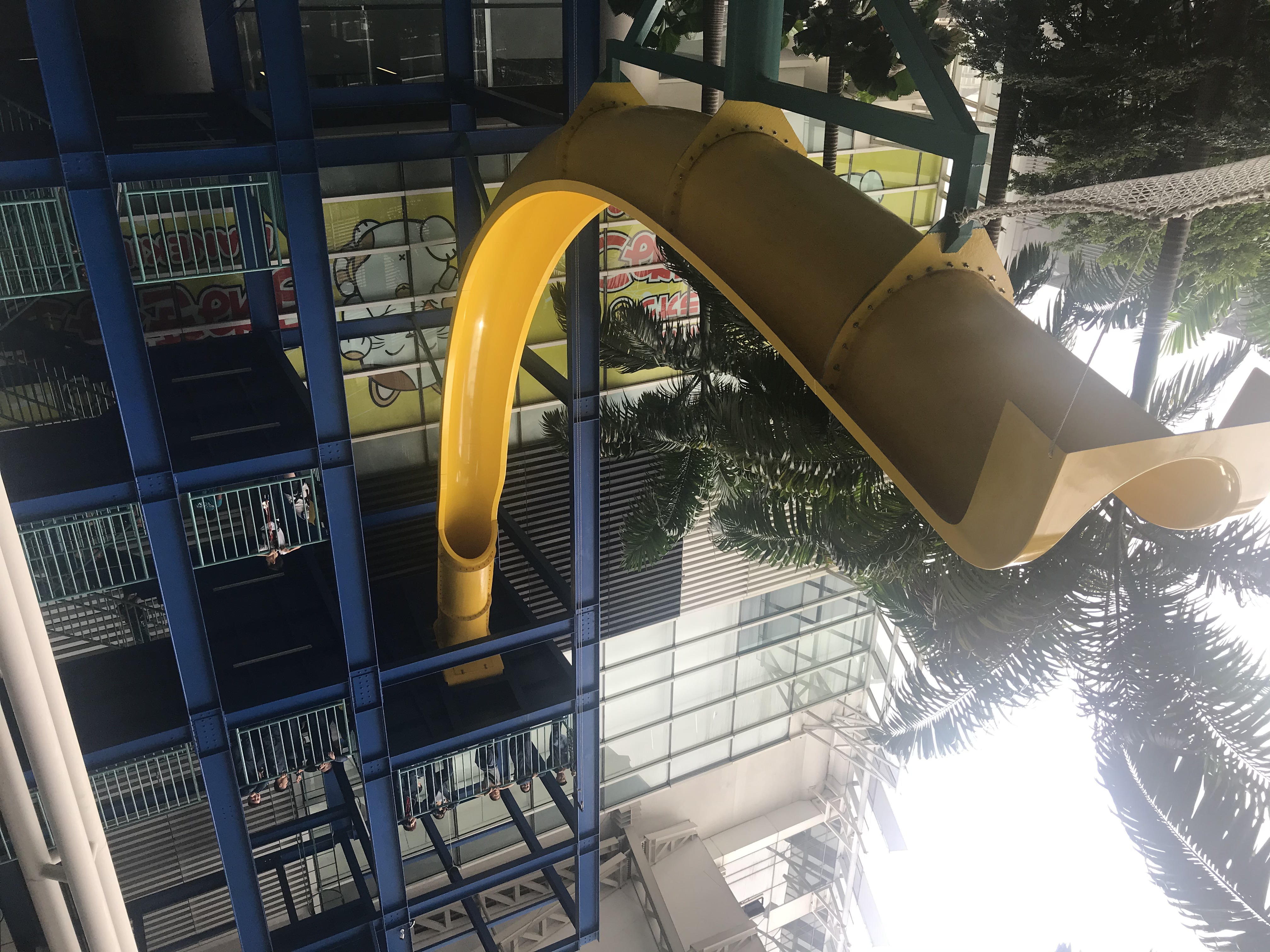 Remember when I mentioned that there were no water slides? Well, it turns out that I was wrong. This ride sends you flying at high speed out of a slide and onto a special air-filled launch pad. There's even a net at the end to catch anyone who flies too far!
Before getting on the Banana Flip, you need to put on a special outfit to make sure you're extra slippery. It's supposed to protect your normal clothes from getting too wet, but you should still bring an extra change of clothes, just in case. 
Atan's Leap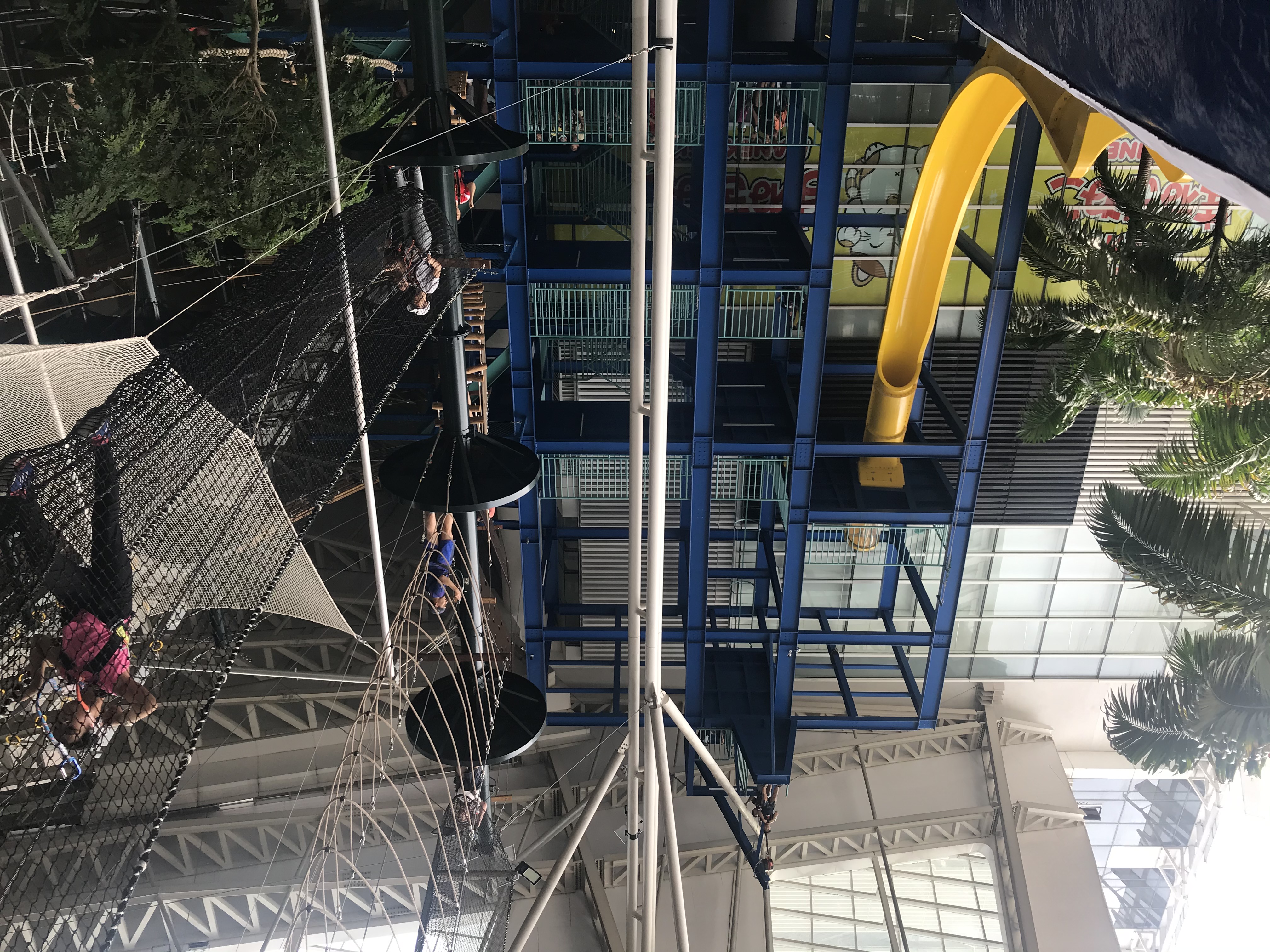 Ready to face your fear of heights? Neither was my sister. 
The Atan's Leap involves climbing up to the very top of a tall tower, strapping on a bungee rope and jumping off like an absolute madman. It's a very primal, life-affirming experience, one that gets your heart pumping and makes you feel truly alive. 
Or so I'm told, anyway. I was too scaredy cat to go up myself. On the plus side, I did take some great photos while waiting at the landing pad. 
A Family-friendly Getaway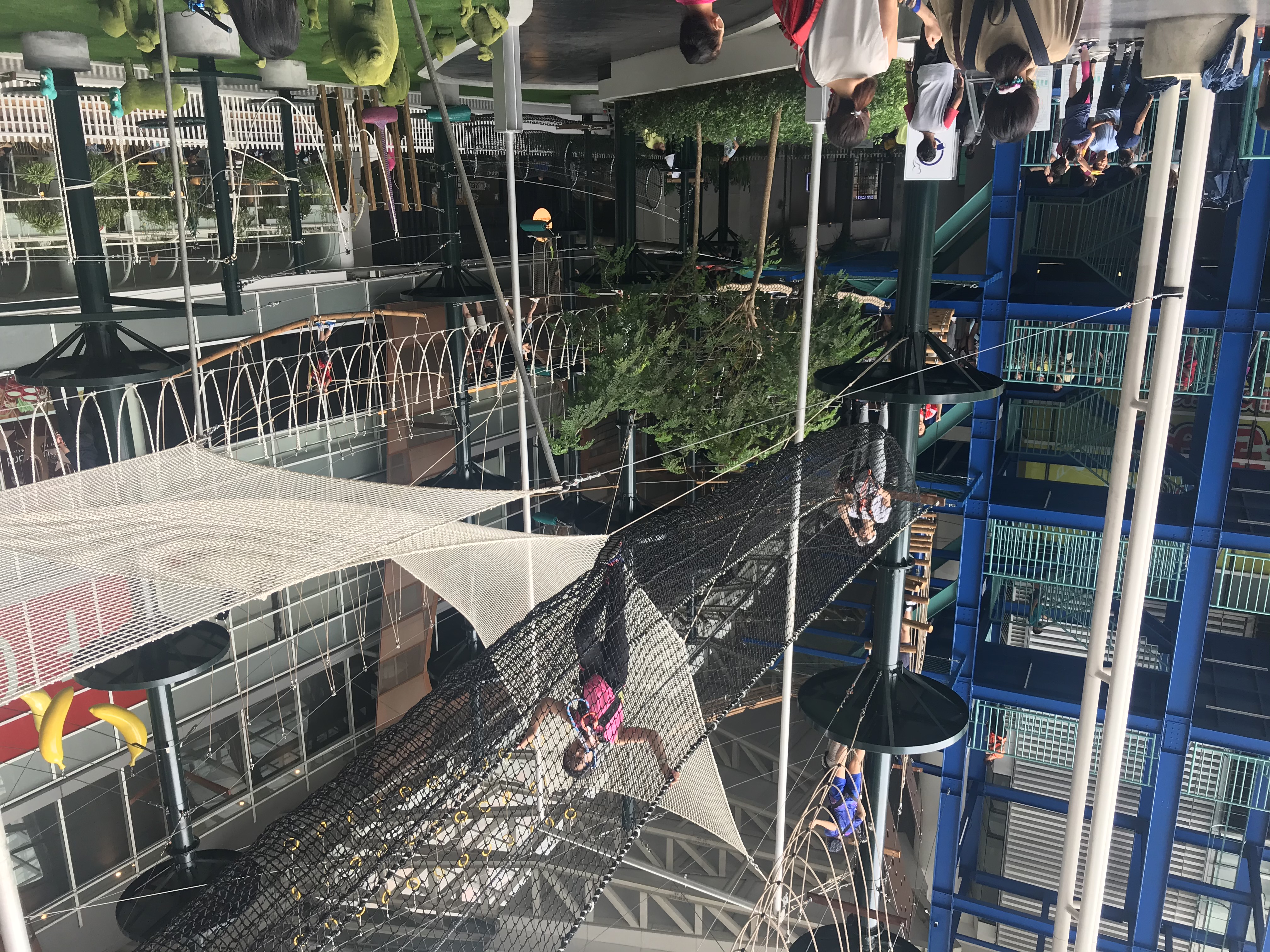 While I've heard of indoor theme parks before, this was the first time I've gone to one in person. And honestly, it was much better than I was expecting. Even without big swimming pools or high-speed roller coasters, the sheer variety of creative and interesting activities kept us entertained all day long. 
Final verdict: 10/10, would go again as long as no one tries to make me jump from the top of a tower.  
Of course, while ESCAPE Petaling Jaya is definitely worth a visit, it's far from the only family-friendly indoor theme park around. The next time you're planning a special weekend trip, make sure to check out Kidzania for a unique, one-of-a-kind experience that your kids are sure to love.