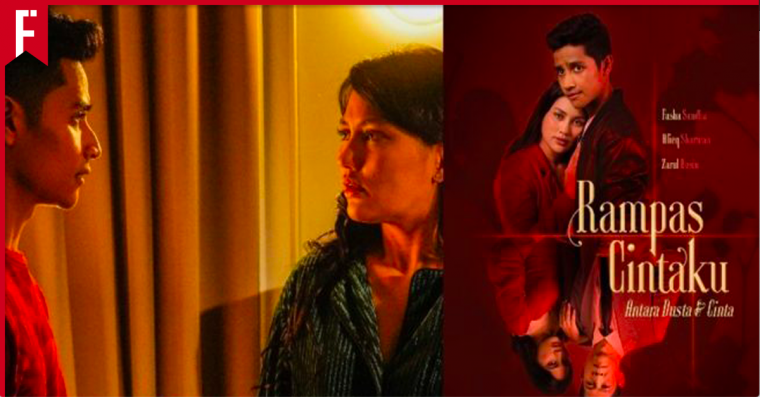 Okay listen…
Before starting this drama, I took a peek at the poster and read the synopsis a little bit. I would like to say that I got very scared of those alone. I mean, hello. The poster was of a woman and a young boy wrapped in an embrace. Where do you think my brain went to?
The whole show revolves around a boy trying to help out his family by paying off his delusional aunt's shark loan debts and a middle-aged woman navigating through the aftermath of her husband's infidelity. So of course they find each other.
It took me quite a while to write this. Not only because I had to wait for it to be free, but I had to also gather my thoughts. I watched this on iQIYI, which is also the only place you can watch this show (legally, that is). 
Now enough chit chat. On to the review.
Disclaimer: There may be spoilers in this review. Proceed with caution.
The Start of Something New
Episode one starts off with a sex scene.
Yeah. Let me say that again.
Episode one starts off with a sex scene.
Talk about starting things off with a bang, huh?
I would also like to put forward the stress I went through to watch this surrounded by people. It's not like I anticipated it to start off that way. I had to convince them that "No, it's not porn. Shut your ears and look away!" Could I have just put on my earphones? Yeah.
No further question, your honour.
Granted, the scene's not very graphic, but the sounds, man. they were kind of disturbing. A lot disturbing, actually. This is also where we catch a glimpse of our heroine, Datin Safieya (played by Fasha Sandha), having been forced to listen to the whole thing because she had unfortunately caught her husband at a bad time.
Was this what he meant when he said he has a site visit?
It's funny, I feel like I couldn't have watched this series at a better time. With Adam Levine's cheating scandal a few months ago and then Ned Fulmer from The Try Guys cheating on his wife too a few months later? Immaculate timing, I say.
Continuing on, the opening scene fades and we get introduced to the other main character, a mechanic by the name of Rizal (played by 25-year-old Afieq Shazwan) fiddling with a vehicle at an auto repair shop. Yeah, I put his age in there so you know that there's a 13-year age difference. Off age and perfectly legal, sure. But it still gives me the heebie jeebies.
I swear, these Malaysian dramas are getting bolder and bolder each day. Remember that unaired one with the girl in the maid outfit?
But anyway, the scene afterward walks us through what kind of life Rizal leads, being an orphan and living with his aunt and sister. From here, we get to see the stark contrast between his life and Datin Safieya's.
It was an interesting comparison, to say the least. One that foreshadows the type of relationship that these two main leads would have in future episodes.
Am I Supposed To Be Feeling So Much So Soon?
Anyway, the scene then continues with Rizal coming back home to a conflict between his aunt and his younger sister because his sister, Rina (played by Puteri Balqis) insists that their aunt, Mak Ngah (played by Zarynn Min), is taking advantage of Rizal and only keeps him around for his money.
This is a recurring thing — the argument between these two female characters. Mak Ngah is a hoarder who loves jewellery and money and will do anything to get it. Which led her to borrowing money from some loan sharks and having her family take the brunt of it when she refuses to pay them back.
If I'm going to be honest, the first episode was quite engaging. There were scenes that could have been cut out like a scene about a "Datin Karen" that can't read the Open and Close sign yet still demands to be treated like royalty. And then we never see that lady or her creepy, leering husband ever again. So I didn't really understand why she had to be introduced at all.
And we get to see a little bit more about Datin Safieya and her relationship with her husband. It looked like the opening scene was some sort of foreshadowing because Datin Safieya was all lovey-dovey with her husband and had not shown any hostility towards him (yet).
Even their daughter seemed to be on the sidelines and showed her annoyance that her parents were only paying attention to each other and not her.
But then to make the drama more scandalous, we find out that the husband's mistress, a.k.a. his secretary (colour me shocked) is insanely jealous of Datin Safieya for taking all of her husband's time and vows to make Datin Safieya pay by stealing her husband right from under her nose.
I don't even know which one I hate more. The assistant or the husband. Or maybe there shouldn't be any competition for that. It's almost comical how it grosses me out that these are old men and they still can't properly settle down. And the girls that know they're getting in on with a married man but still unable to accept being a secret.
I feel like the most intriguing and interesting part of the show is when they advertise the inner workings of what happens in the lives of the elite. Where they aren't scared to spend money in exchange for some quality time with other people who aren't their partners and how shameless they are about it. It really makes me wonder if there are actually people like that in real life.
Thoughts… and Prayers
This series is like a sugar mummy/sugar baby trope.
Or it could just be that a middle aged lady, tired of her husband's lies finds comfort in the innocent all too pure country boy. Is she going to try to seduce him? I don't know, it looks like it. And I'm lowkey scared to watch what happens if she succeeds.
It's like watching a train wreck. You know it's going to end badly but you just can't look away.
The dialogue in the show could use some work though. If there is something to complain about, it's mostly that. It's always the same "I wouldn't have thought that it would be this way." and "You lied to me!" Maybe try some new lines? Something a little bit more out of the box?
I've only watched four episodes so far and I'll be honest, I don't know if I'll be able to watch the whole thing. It's the kind of ridiculous that grips at your spleen and refuse to let go. But also has an overwhelming amount of cringe, so I'm not sure where I stand.
Episode four ends with the knowledge that Rizal might have accepted Datin Safieya's offer to be her sugar baby. Please know that I am screaming as I'm typing this because there's no other way I can express what's going on in my head right now. Other than ew.
This whole series has 14 episodes and they're all available on iQIYI, by the way. If you're patient (like me), you can wait every week for a new episode to be free. But if you're not, you can subscribe to their website and pay RM4.90 a month for VIP access where you also get to skip those pesky ads.
Be aware that this show's a lot more "graphic" than any other Malaysian dramas you've seen before. There are a lot of euphemisms and more sexual plotlines than normal. And each episode is roughly around 50 minutes long, give or take. There are mild cliffhangers after every episode too and each one gives you a sense of direction on where this series is headed (and that is straight to hell. I'm kidding. Mostly.)
Throughout the show, you get to see Datin Safieya try to get a hold of her feelings and be a strong independent woman who finds no comfort in the devil put inside her sheets. How she took control of the situation and… somehow made it worse. I don't know why she had to include a third party in her issues. That poor Rizal boy really can't catch a break.
But hey, to make an omelette, you've got to break a few eggs, am I right?
To Watch Or Not To Watch?
So, in conclusion, would I continue to watch this show? In short, not really, no.
Okay, that's not fair. I like that this show is a little bit more… intense and different but I also am uncomfortable with the themes of the show. The first episode kind of haunted me for a few days but I guess that's what makes a series good? When you can't stop thinking about it. Right? Or was that what people say about trauma? I don't know, I can't tell the difference at this point.
I'd give this show 7/10 stars. The story has a lot of other themes in it that are not just infidelity — blackmail, underground stuff, excessive use of eyebrows as a communication device, etc.
It's also about irresponsible guardians, horrible examples of parenthood and traumatic kids too. Oh, don't we just love those? Some scenes are a little too long but that's alright, just fast forward them. But while some scenes are too long, others seem to be so horribly cut and hastily put together that it gives you a whiplash to try to figure out which timeline you're in.
As you can see, I have a lot of thoughts about this show. If you like trashy dramas, this one's for you. Get past the horrifying dialogue and excessive use of eyebrows in a conversation and you'll be fine.
If you're looking for other dramas that could potentially shorten your lifespan, we've made a list that you can check out:
5 Malaysian Dramas That Boil Your Blood