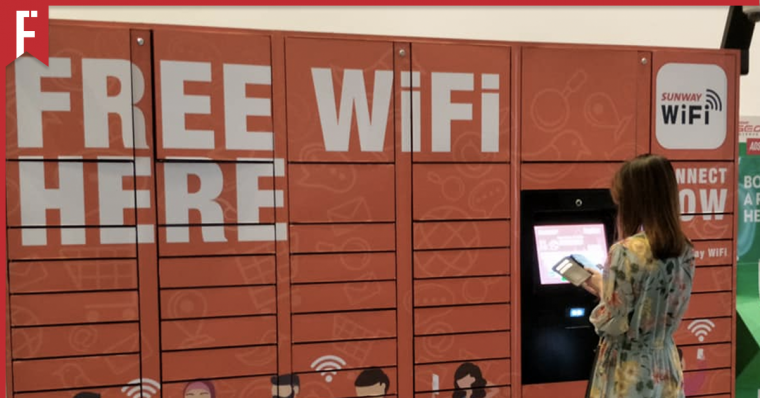 This article was written in collaboration with PopBox.
I don't know about you but these huge metal-like locker things are like a Baader-Meinhof phenomenon for me. I see them a lot when I'm either entering a mall or going out of it. And I never really paid attention to them because I just thought they were lockers, and I never actually needed any locker services before.
But when I actually started noticing them, things started getting weird. They were like dandelions for me because they kept popping up everywhere I went. It made me start to actively wonder what those things actually are. And after a few clicks, I found out they're called PopBoxes. Well, they have a lot of names, but the ones I kept seeing were PopBox.
When I finally had the opportunity to use the PopBox services, I couldn't pass it up. But don't you worry, I wasn't forced to do this or anything (*side eye emoji*). I just kind of figured since I am an avid online shopper with a 9-6 job who gets home at the wee hours of the night, I'm the perfect target audience to try this out.
So, gather round, children. Let me take you with me on this journey of discovering a (potential) new way to receive parcels.
The Whole Process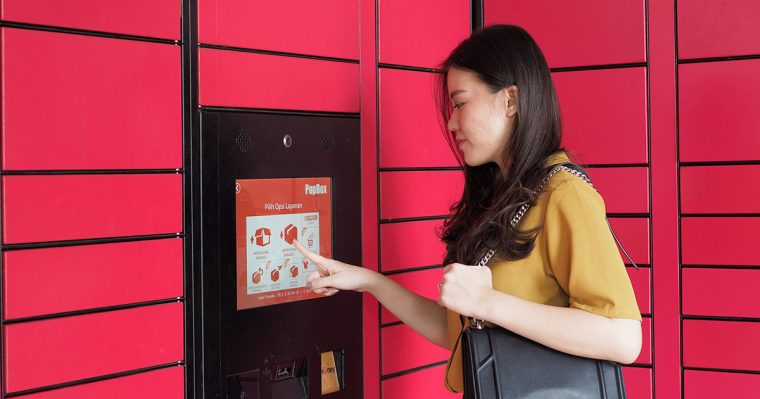 It has to be said that it's not that there's anything wrong with the previous way I received parcels. I would always have people at home to get them for me so it's not so much a problem. I just like to explore my options. You know, just in case I need to receive something that I don't want anyone else to see. You know like some… top secret things or something. I'm just thinking ahead, okay.
Ordering the Goods
The first step is to, of course, buy something online first. And I'm not going to lie to you, this was probably the hardest part. Thinking about something to buy so that it's not too expensive and if it gets lost in the middle or whatever, I wouldn't be too upset. So, I chose some socks. Simple and affordable.
When I went to check out, I had to remember to change my address to a PopBox that's near my house. This was also a teeny bit difficult since I didn't have a PopBox near my house at all. The closest I found was in Atria Shopping Gallery, which was 20 minutes away from where I lived. But hey, never underestimate the kegigihan (i.e. persistence) of a girl on a mission. I figured if this works out, it's worth giving it a shot.
Getting the Message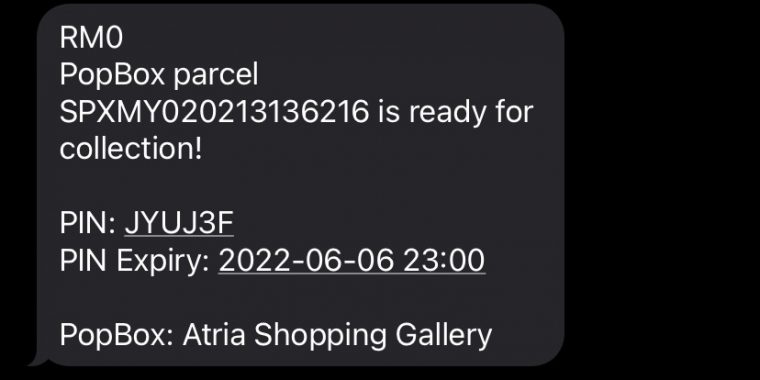 A few days later, I received a message from PopBox telling me that my parcel had arrived. Now all I had to do was to go get it. Seems easy enough. But, I overestimated myself. Looking for it at the mall wasn't that easy. Granted, I should have Googled where it was first since I'm horrible with directions, but it's a good thing I brought my aunt along with me.
She reasoned that the PopBox had to have been somewhere that's close to an exit. Since people would be coming in and out for their parcels at odd hours of the day (and night), it had to have been placed somewhere that's easy to access. And after a while, I managed to find the huge metal box nestled at the corner of the exit leading to the car park on the third floor.
It's a little bit hidden and you can only see it when you're either coming in or paying your parking ticket to get out. I'm on the fence for this one. On one hand, it's a good place to put it but on the other, if you're not looking, you won't see it.
Securing the Goods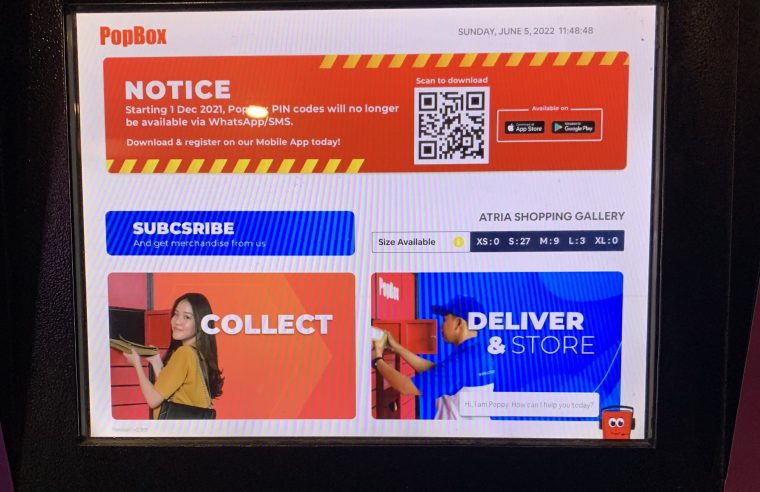 When you reach the PopBox, you'll see a screen in the middle of the locker that asks if you'd like to "collect" or "deliver" something. In this case, I was a collector, so I clicked on that.
Pin Code or QR code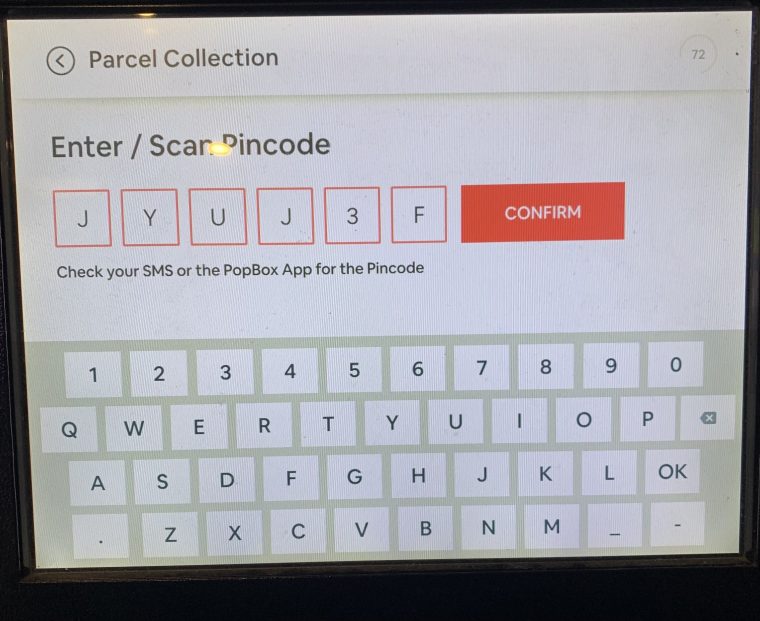 Unlocking the parcel locker door wasn't difficult either. But like I said, I'm a whiner. The whole process took me about three minutes.
First, I had to key in the pin code that they gave me. You see, every code is unique and can only be opened by the hand of the owner of said code. So, you can rest assured that unless someone has read your messages, your parcel's safe and sound in that metal box.
If you have their app, it's a lot easier. After filling in your details on the app, you can just scan the QR code that they gave you and the box will pop open. But I didn't have it, so the PIN code works just as well.
Put in Your Name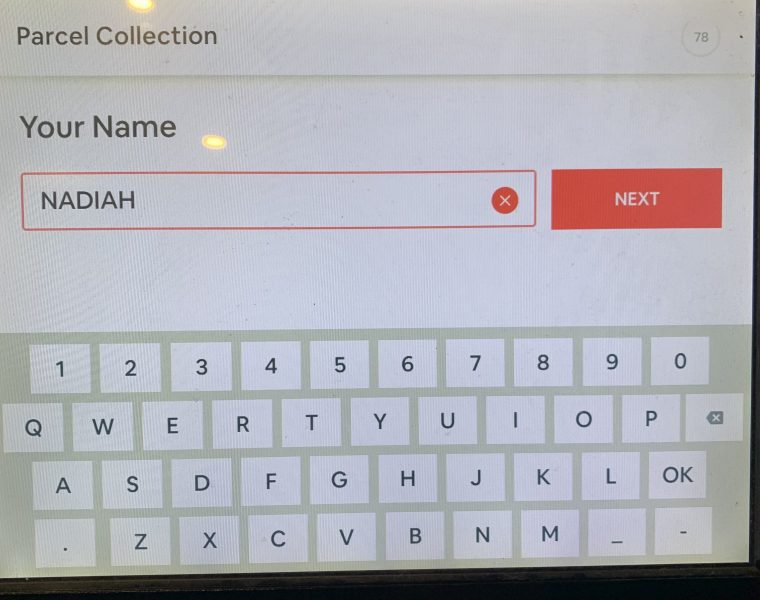 The next step is to key in your name. Your real name, please. This is an official document. Nothing else is to be said. It's pretty straightforward.
Put in Your IC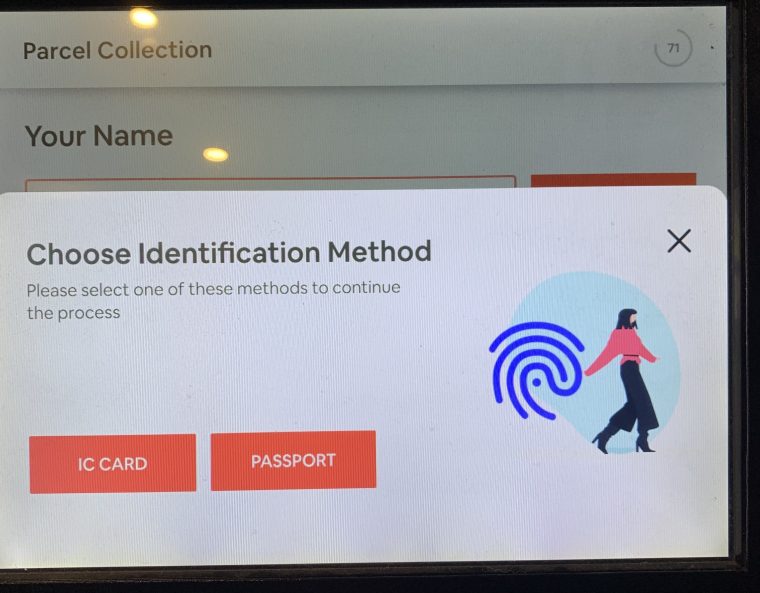 After typing out your name, they would ask you for an identification. You know, just to prove that it's a real person picking up the parcels and not some robot or something. So, you can choose whether you'd like to key in your passport number or your IC.
I just keyed in my IC because hey, if anyone wanted to steal my identity, they'd be in for a boring life because I have nothing to my name except a mountain-load of student loans. So, have fun with that.
Sign It Away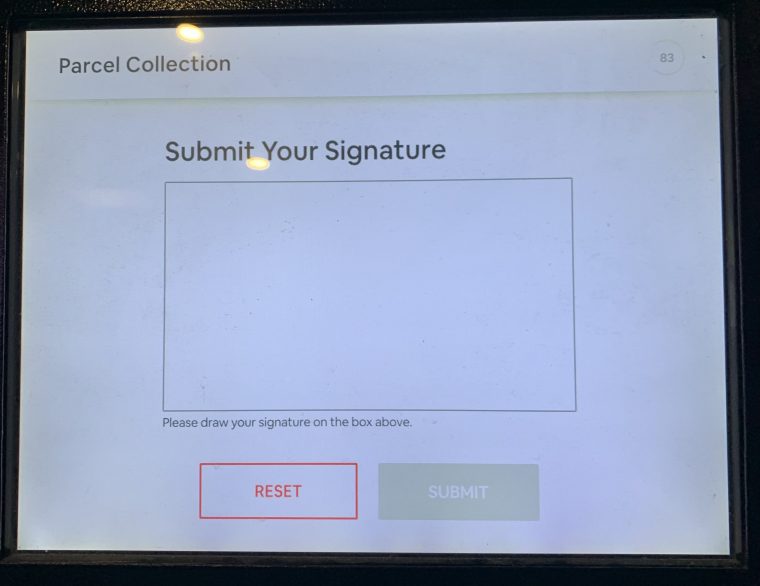 When all that is done, what's left is for you to leave your signature on the screen (which is pretty cool, I'll admit. It made me feel like I'm signing an important document) and when you click "Submit", the door to your parcel would open for you.
The thing that I found a little funny was that the locker wasn't numbered from the outside. So, if the door opened, it could very well hit you on the head. It's not likely to happen, of course. And even if it did, the door opened way too softly for it to be lethal. I just had that thought in my head, is all.
So, What's the Verdict?
If you ask me, I kind of vibe with PopBox. It's convenient, being that it's easy to access and it's pretty darn safe. There's also a feature where it acts like a locker where you can store stuff while you shop at a mall, or even just for safekeeping. It's not free, but it is cheap — costing only RM1 for 24 hours. If I were to not use PopBox for deliveries, this might be another useful option I'd try out in the future.
And honestly, with this in mind, if it was up to me, I'd take control of the whole PopBox in the mall if I were to go shopping. If it can hold my (many) shopping bags for me while I shop some more, all the better for me. I have yet to try that, but we'll see when we get there.
And hey, why wait for me, anyway? There's over 200 PopBoxes all across KL and Selangor. You can check out their locations on their website (https://www.popbox.asia/) if you want to try them out yourselves. Maybe you'll be lucky and find out you live near a place that has a PopBox that you've never noticed before.
What's the Rate, Mate?
Overall, I'd give this whole experience an eight out of 10. The eight was mainly because there aren't any PopBoxes near my housing area, so looking for one that's less than 15 minutes away from where I live was kind of a pain as I had to go "out of the way" to go get it.
But I'd say if there was one that's within my housing area, I'd give it a full mark (*nudge* *nudge* *wink* *wink* PopBox, please take note).
Another factor for the points off is that I personally didn't think that I needed the service unless I had to be secretive about a gift or something, or the keeping my shopping safe option. And a tiny point off for it being placed somewhere that I couldn't see at first. But it was a good experience, nonetheless.
Is It Recommended?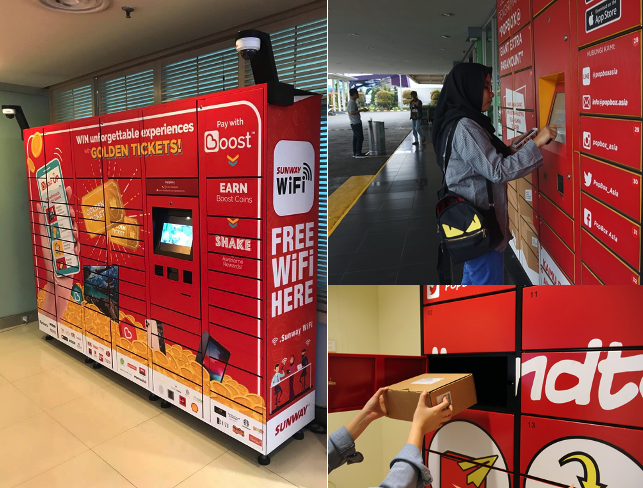 Would I use the PopBox again? I'd like to say yes. The whole PopBox experience was quick — from the moment the parcel was delivered to when I had it in my hand. And I really liked that they give you some time (three days) to collect your parcel. Since busy people would often have no time, being given extra days to pick up your stuff is super helpful.
I also liked that there were CCTVs above the box. I don't know if it's working properly or not but assuming it does, it's good to know that they take precautions to ensure that your parcel's in safe hands.
So, if you ask me if PopBox is worth trying out, I'd say yeah.
PopBox seems to really revolutionise your online shopping experience. It makes things easier for you because there's no rush and no worries, just convenience. You can either grab your parcel on the way to work or even the next day or the next day – no problem!
So, if you're someone who's always busy and with limited time at home, try looking around for a PopBox near you and try 'em out yourselves.