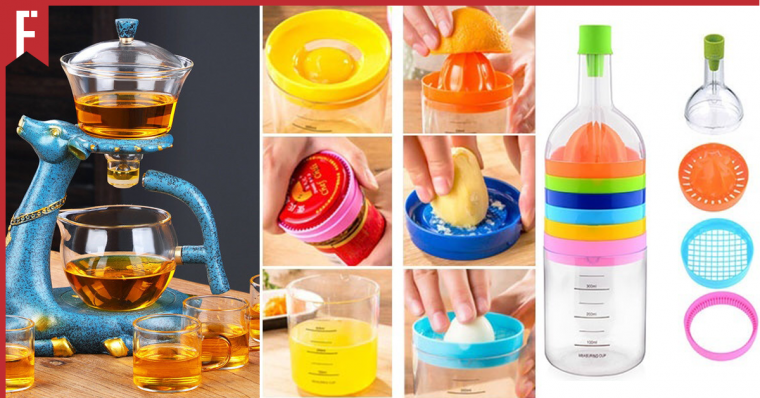 Are you at a stage in your life where you get all excited at the prospect of going to Ikea? Or you find yourself flipping through magazines and TV shows thinking "wow, those tiles would look great on my kitchen floor." and just overall obsessively thinking about redecorating or adding more stuff to your house (or imaginary house, if you don't have one).
Well, lucky for you, that's called adulting. When you're an adult, things like these just come naturally to you, so don't be alarmed. In fact, rejoice! Because if you're anything like what I've described, I've got some more home goods you can hoard.
In this edition, we're going to hook you up with some really cool, unique kitchen goodies you can buy to make your lives not only easier in the kitchen, but also aesthetically appealing.
Eight-in-One Kitchen Tool
This multifunctional kitchen tool may look just like an ordinary bottle, but it has eight separate functions. You can use it as:
cheese grater
measuring cup
can opener
lemon squeezer
funnel
masher
egg separator
spice grater
Wow, that's a lot.
I'd say it's a plus that it's shaped like a bottle too because you can bring it with you when you go places. Assuming you're going somewhere that needs those appliances la — it's portable too, is what I'm trying to say.
Actually, if you choose to buy these, it'll save you a lot of space in your kitchen and a lot of money. Can you believe it's only RM17.90? You also don't have to buy eight separate kitchen appliances and it's pretty compact so you can just put it anywhere you want.
Loch Ness Monster Ladle
Who said kitchen appliances had to be boring? I'm always on the lookout for cutesy kitchenware just to spice things up. And when I found this while I was browsing through Shopee, I know you guys would've wanted to see it too.
I mean, come on. A ladle shaped like a mythical creature to scoop up soup? I'd honestly make soup every single day if it means I get to use this adorable little thing. It comes in three different colours and it can stand on tiny little feet so that you don't have to lean the ladle on anything and get soup everywhere.
Honestly, I've got all three colours and I'm using one each week. Time to look up some good soup recipes because your girl's on a soup diet now.
Magnetic Spice Tins
Do you or your mum have a spice rack in your kitchen? Of course you do, you're Asian. It's like our right of passage or something. Do these spices on the rack often come unlabeled and you have to taste it to confirm that it's either garam or ajinomoto? Or curry or some other biryani mix? Yeah, same here.
So when I was watching a cooking show, the lady had a couple of magnets on her refrigerator behind her. I didn't think much of it until she took one off and proceeded to add some of the contents to her soup.
That's when I realised that the magnets on the fridge were holding some spices. How genius is that? It would save room in your kitchen and not make it cluttered and dirty from all the access. Plus, it kind of looks pretty cool. You can find these magnetic spice tins in Spotlight for only RM18!
Drip Pot Tea Infuser
I put this in because it was really pretty. No other reason. I put it here and count it as a kitchen tool because I said so. You'll see what I mean if you take a closer look at this gorgeous creation. It's a teapot but it's one that you don't normally see anywhere.
I saw a TikTok of someone using this to make their tea and I fell instantly in love. I've been searching everywhere for this and I finally found it after so many months. It's the most beautiful thing. It's not really that practical but it's just something you pull out when you have friends over and you just feel like being fancy.
Imagine sitting outside in a garden or something and having tea with your friends while you're all dressed up like you're in a Jane Austen novel. Oh, how nice it feels! You can buy one of these on Lazada for RM99.20. Yeah, it's a little pricey but it's the aesthetic that counts.
Multi-bladed Scissors
This is a more practical kitchen equipment. It's something that you might use every day to chop up your greens a lot quicker. These scissors aren't just normal ones. As the name suggests, these scissors are multi-bladed so that when you cut cilantro or daun bawang or anything similar, you'll get it done at a much faster pace.
My mum actually has this in our kitchen. She loves using it to cut almost anything she can since it lessens her cooking time. One time, I saw her cut a fish using it. It was pretty gnarly, to be honest, but hey, if it works, it works.
You can purchase this useful kitchen tool on Shopee from RM8.02. You can choose if you want three-layered blades or five. Personally, I'd go for the five. The less time you spend preparing a meal means the less time you spend waiting to eat it. Lifehack!
What Are You Waiting For?
I know, I know, you're very welcome. These kitchen tools will surely make your lives easier and all your friends will also be asking you where you got them from. Especially the teapot, I can guarantee you that.
If you'd like to branch out from your kitchen and you're looking for things to add to your home, may we recommend this read?