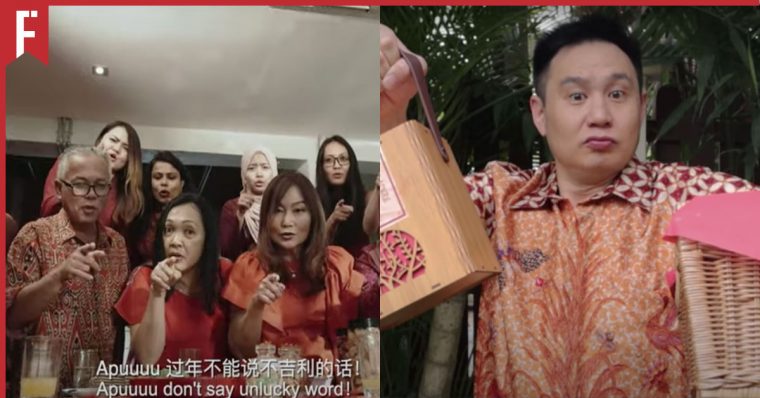 It's almost Chinese New Year! And in true Malaysian spirit, there are multiple ads to celebrate. We've been through a lot together, so why not rest up, relax and put all our worries behind us as we usher in the prosperous year ahead.
To help with that, we've compiled a list of some CNY ads that caught our eye. Obviously, if we like it, it's definitely worth watching! I'm telling you, you're either going to cry because you're touched from the ads or laugh because of the silliness. Either way, get some tissues ready, folks!
1. 家人 "Family"
– Mr DIY
Start off the new year with your found family. Mr DIY's CNY ad showcases that water does indeed run thicker than blood. Not going to lie, I shed a tear for this one. It's really sweet and just shows, even in a short amount of time, what the word "family" really means.
Mr DIY would also like to let you know that if you watch and share their CNY ad video on Facebook, by the end of CNY, they'll donate the total amount of shares (1 share = RM1) to orphanage homes in Malaysia.
2. The Undivided Heart –
Digi
Digi's ad tells a really heartfelt story of a family that always seems to butt heads. It also tells you that even though we all have our differences, we're still family in the end and families look out for each other in their times of need.
One quote that I think made an impact on me was "even if she doesn't understand, you should have the patience to teach her." I think that's beautiful, and it should be the kind of mentality that we should all carry.
3. Journey to the WoW – AIA
This ad was interesting because it combines a cartooned storyline while they tell the actual story. It's really different hearing from one perspective while there are illustrations to back it up. It makes the storytelling a lot more engaging, in my opinion. There's a good lesson learnt from it — that "if you plan and live well, you'll be able to protect your loved ones."
4. Shopee CNY Sale 2022 is Here! 🧧
– Shopee
You know your girl's got to put Shopee on here. And when there's a Shopee ad, there's always a song attached to it. After the sobbing from the first two ads, at this point, I'm really tired. So Shopee's lyrical ad is a welcome break from all the tears.
They just never miss when it comes to these sort of videos, huh? The ad's song has an old-timey melody to it and if I'm honest, it's super catchy. Excuse me while I check my Shopee account…
5. RISE with Sheng Family – Tune Talk
Rise together with Tune Talk as they show you what CNY is like with the Sheng family.
I actually really liked this one. It's kind of like a vlog experience where we get to see CNY through the eyes of someone who celebrates it. We also get to know what they would like the new year to bring them.
It's just a short and cute skit of celebrating the new year with family, despite having different interests.
6. Worst Chinese New Year Song – Douglas Lim
This isn't really an ad but I thought I'd put it in here for the giggles.
Trust Douglas Lim to make a memorable CNY video. He made a CNY song in 2021 as well and since the video blew up and is still circulating around Whatsapp, he thought he'd make a new one.
It's actually amazing that he came up with a song two years in a row. Is this going to be an annual thing? If so, it's very much welcomed! He also provided people with the means to use it as karaoke, because towards the end of the video, it's just music and lyrics.
So, gather your friends and family and sing to your heart's content!
7. CNY Greetings Video – Sarawak Tourism Board
Sarawak Tourism Board's CNY ad was honestly the cutest of all the videos on this list, hands down. I enjoyed this the most! You can see how much effort they put into making it and they did a great job!
In the video were skits on the "pantang larang" of CNY, like not wearing red and sweeping the floors on the day of CNY. It was very educational for those of us who aren't familiar. It's also cute that they added the blooper reels at the end of the video, I feel like it adds more character. Definitely a nice change of pace from all the crying.
8. Hēr Prósperity
– Taylor's University
And we're back to crying.
Taylor's ad tells you a story of a successful young chef who often feels guilty for not being able to live up to her mother's dreams and expectations of her. I must say though, this ad was so beautifully shot.
The scenes show us glimpses of the characters' lives and even though it was a short ad, it really made me feel for the characters. The first few minutes of it made me a little teary eyed and the end made me full-out sob.
Did the mum and daughter manage to reconcile in the end? You'll have to see it for yourself.
Celebrating The New Year
We've all been through a lot last year. This month also la, is very questionable. And the stress is probably taking a toll on us. So this next week, let's just relax ourselves and celebrate our times together. Leave the negative energy in the past for a hot minute and enjoy each other's companies, yeah?
To help your party get started, why don't you check out some of last year's CNY ads that we did? Come on, let's get into the true Chinese New Year spirit!
8 Entertaining Ads That Bring Out Your CNY Spirit!