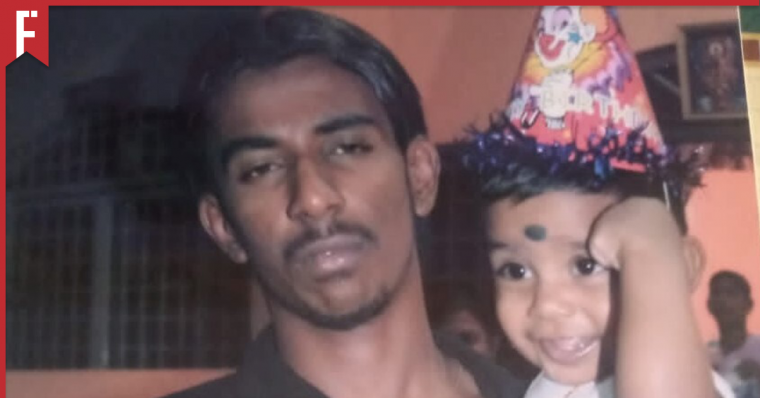 Last November, news of Nagaenthran A/L K. Dharmalingam facing a death sentence for attempting to smuggle drugs into Singapore has gained international attention.
The sentence has been condemned by activists and human rights groups, as the 33-year-old is reported to be intellectually disabled and not fully capable of understanding his actions. Nagaenthran reportedly has an IQ of 69, indicative of a learning disability, as well as Attention Deficit Hyperactivity Disorder (ADHD).
Following a stay of execution being granted to Nagaenthran on the 8th of November 2021, news just broke that his execution has been set for next Wednesday (27th April 2022), according to lawyer M. Ravi.
Here is a timeline of events that led to this decision;
April 2009
On 22nd April 2009, the then-21-year-old was caught smuggling 42.72 grams of diamorphine (heroin) into Singapore as he was entering the Woodlands Checkpoint from Malaysia.
November 2010
About a year later in November 2010, Nagaenthran was sentenced to death in the Singapore High Court. According to the country's Misuse of Drugs Act (MDA), the death sentence applies to cases where the amount of heroin is more than 15 grams.
July 2011
On the 27th of July 2011, Nagaenthran's appeal against his conviction and sentence was rejected by the Court of Appeal.
February 2015 – September 2017
According to Amnesty International, judges in Singapore have recently shown more discretion with cases where the defendant's role was limited to transportation (i.e. smuggling) ( also known as "courier"), if the public prosecutor issues a certificate of substantive assistance. They also do this for people with mental or intellectual disabilities, as their judgement and sense of responsibility for their actions related to their offence are impaired by their disabilities.
On 24th February 2015, Nagaenthran applied to convert his sentence to life in prison. However, although he was qualified as "courier", he was not issued a certificate of substantive assistance, thus confirming his death sentence later in September 2017.
June 2020
After a decade of appealing his case, Nagaenthran's application for presidential clemency was rejected in June 2020, setting his death sentence to be carried out for 10th November 2021.
October 2021
On the 26th of October, a letter from the Singaporean authorities was sent to Nagaenthran's family in Malaysia, notifying them of his execution date.
3rd November 2021
In a Facebook post written by community organiser Kokila Annamalai, she shares what Nagaenthran's younger brother, Navin, has witnessed while visiting him in prison. In the post, she states that spending the past 12 years in isolation has greatly impacted his mental state, affecting his comprehension, memory, and ability to connect with others. An excerpt from her post reads,
"Acording to Navin, Naga doesn't know that he is facing imminent execution. Navin said, 'he seems to be in a different world altogether. This is not Nagaen, he is not himself at all.' "
5th November 2021
The Singaporean Ministry of Home Affairs released a statement that the High Court considered all the facts, including evidence from four psychiatric and psychological experts, and held that Nagaenthran was aware of what he was doing when he committed the crime in 2009. An excerpt from the statement reads,
"The Court of Appeal noted that Nagaenthran knew that it was unlawful for him to be transporting drugs, and hence attempted to conceal the bundle by strapping it to his left thigh and then wearing a large pair of trousers over it. He undertook the criminal endeavour in order to pay off his debts, and hoped to receive a further sum of money upon successful delivery."

Singapore Ministry of Home Affairs
7th November 2021
Malaysian Prime Minister Ismail Sabri Yaakob wrote to Singaporean Prime Minister Lee Hsien Loong, asking for the country's High Court to grant a stay of execution and a new application for presidential clemency, citing Nagaenthran's intellectual disability.
8th November 2021
The case was heard by the Court of Appeal on the afternoon of 8th November 2021. Nagaenthran's lawyer, M.Ravi, posted an update on his Facebook page at 4.19 pm, stating that the High Court has just ordered a stay of execution, pending a hearing from the Court of Appeal.
9th November 2021
Nagaenthran's hearing was delayed after testing positive for COVID-19.
23rd November 2021
According to Deputy Foreign Minister Kamaruddin Jaffar, the Yang di-Pertuan Agong had also written to Singapore's president, appealing for clemency for Nagaenthran's case.
29th March 2022
Nagaenthran's final appeal was rejected in court.
20th April 2022
In a Facebook update posted by lawyer M. Ravi, it was confirmed that the 34-year-old's death sentence will be carried out next Wednesday (27th April).
Nagaenthran's case has shed light on the struggles many Malaysians with disabilities face at various levels. Whether it's an intellectual or a physical disability, it's safe to say we can do more to make our country more accommodating for everyone.
Malaysia Isn't Disabled-Friendly Enough, But It Could Be