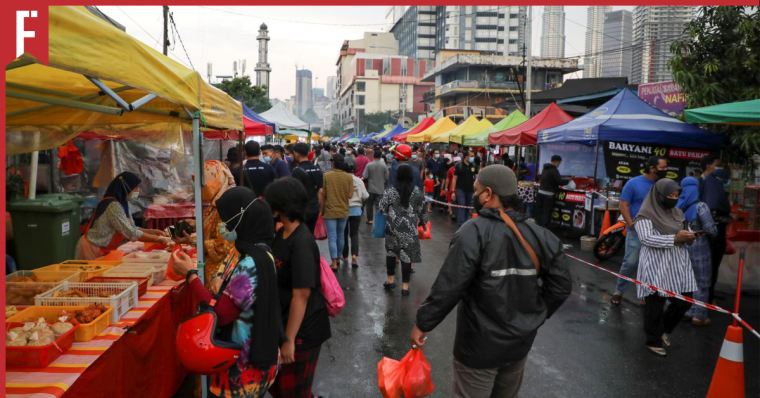 It's that time of year again! Where you travel the country in search of many, many bazaar Ramadan locations that will satisfy your hungry tummy after a full day of fasting. And let me be honest, it wasn't easy for me to write this. I nearly cried thinking about all the delicious food these bazaars have.
So here, accept my sacrifice and travel almost all around Malaysia with me to give you some insights on the bazaar Ramadan that's happening in your city.
1. Bazaar Ramadan Stadium Shah Alam

This bazaar brings back memories for me. I used to go there every year during my college years. Back in 2018, that place used to be filled to the brim with people. And now that we can go outside again (with SOPs, of course), it feels just like old times.
You can buy your food and buka puasa by the stairs of the stadium with your friends. Situated just outside of the stadium, at their parking lot, this bazaar has over 30 stalls and they're so good. You can buy just enough for you to eat and maybe some leftovers for sahur too.
Address: Tapak Parkir E1 E2 Stadium Shah Alam 40100 Shah Alam, Selangor, Malaysia

Opening hours: 4pm – 7.30pm
2. Bazaar Ramadan Putrajaya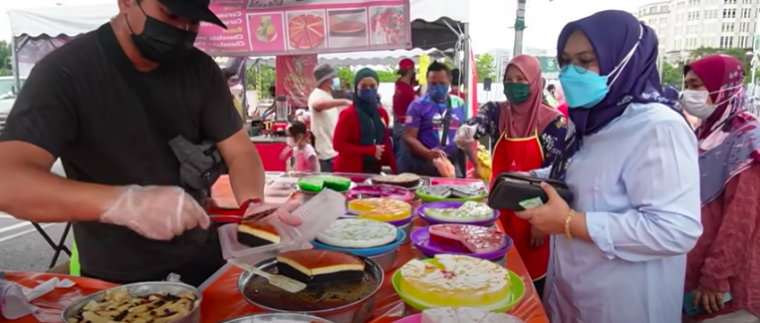 There's a stall there that sells fried prawns that are as big as your fists. Yes, that's what I want you to know. While I'm allergic to prawns, it looks too good to pass up. This bazaar has been hyped up because people have been saying that the food here is absolutely to die for. They're pretty affordable and have lots of options from goreng-goreng to desserts galore. There's also a popiah stall that's pretty famous.
The lady makes them all by hand in front of you and to hold them in your hands after she's finished making them memang betul-betul testing your patience. If you're not a popiah person, there are other options you can try like briyani kambing, Japanese pizza, otak-otak… the list goes on. But be warned, shop at your own risk! And remember to control yourself too (this is also a self-reminder for me).
Address: 12, Persiaran Perdana, Presint 3, 62100 Putrajaya, Wilayah Persekutuan Putrajaya

Opening hours: 3pm – 8pm
3. Bazaar Ramadan Pantai Dalam, KL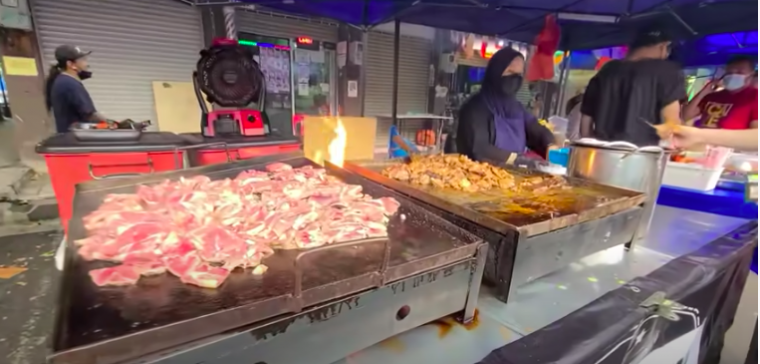 This bazaar Ramadan is a place that my family usually frequents every fasting month. It's close to our house and it offers a variety of options at quite a cheap price. There are a lot of people, so be sure to check your SOPs when you decide to go there. The parking is also a lot harder to obtain. So, I would suggest you either take a Grab there or walk.
If you want any suggestions for what to eat, I say you should buy the kambing bakar. You can't ever go wrong with lamb. If you want more variety, there are a lot of stalls selling nasi campur that you can visit too. Go ahead, if you live nearby Pantai Dalam, walk on over and give this bazaar a try.
Address: 2, Jalan Pantai Permai, Pantai Dalam, 59200 Kuala Lumpur, Wilayah Persekutuan Kuala Lumpur

Opening hours: 4pm – 8pm
4. Bazaar Ramadan Taman Peringgit, Melaka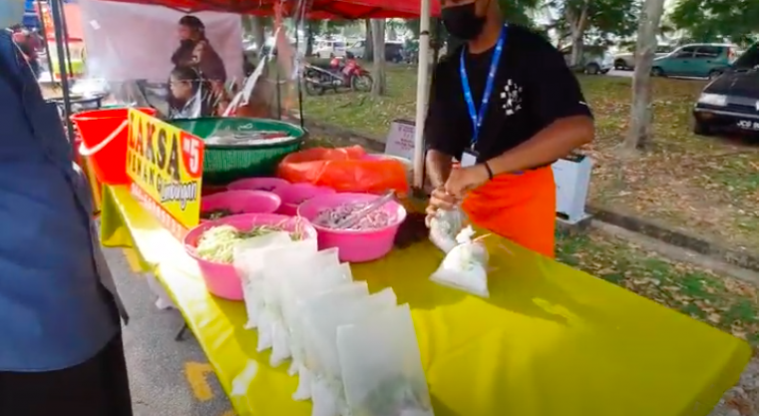 There's not a lot of bazaars in Melaka but I managed to find one that has some interesting food. The first thing that caught my eye was the multiple cold drinks that were sold at one of the stalls near the entrance. On such a hot day, can you blame me for thinking of nothing else but nice tall cool glasses of drinks?
If you're looking for something light, they also sell tau foo fah, kuih-muih and rojak too! But if you're stumped on what else you can buy, it doesn't hurt to take a lap (or two) around the whole bazaar. Sometimes, there are stalls that you want to go to but the line's too long, maybe you'll find another stall that sells something similar when you walk further ahead. See, although it's small, there's options for everyone.
Address: 17, Jalan Solok Pantai Peringgit, 75400 Melaka

Opening hours: 5pm – 8pm
5. Bazaar Ramadan Stadium Ipoh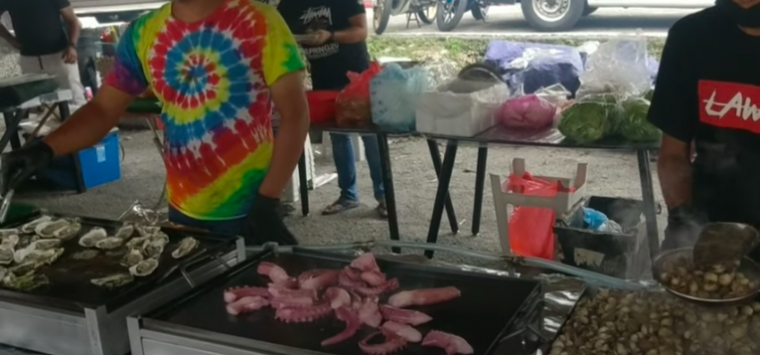 I haven't been here yet but I'm going back to Ipoh in a few days and you best bet that I'll be checking this place out. This is actually the only place that I ever saw that sells fresh fruits. It's also one of the first things you see when you walk into the bazaar. There's also a stall that sells fresh seafood that they grill for you on the spot!
I'm not just talking about prawns and fish kind of seafood. There's oysters. And the place isn't that big, compared to the ones in other cities but the food options more than make up for it. There's kuey teow kerang, asam pedas, satay, ikan bakar galore… I could go on forever. There's even pekasam! You get the picture. I'm going to stop before I salivate all over my keyboard. But I must say, go try this place out for yourself!
Address: Kompleks Sukan Ipoh, 31400 Ipoh, Perak

Opening hours: 3pm – 8pm
Happy Fasting Month!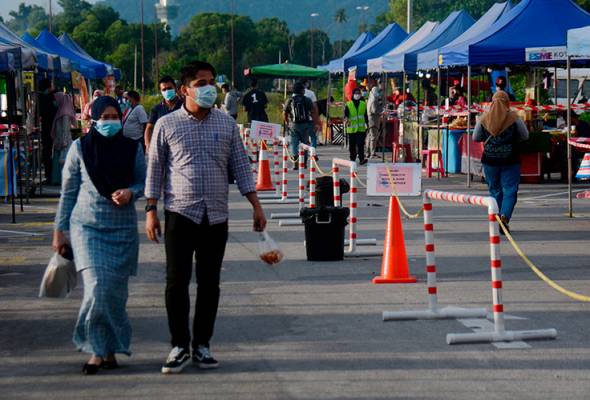 So much glorious food! And a month long to hit up all these joints. Who knows, if you ration your time properly, you'll manage to eat at least one dish at every single one of these places' stalls. Isn't that something for the record books?
We at TFF would also like to remind you that although we're in the endemic phase now and everything's more or less loosened up, the virus is still very much present. So to minimise any risks, please follow the SOPs that are presented to you while you browse your buka puasa options.
And while some are busy with the start of Ramadan, others are busy with some Raya shopping. If you're looking for some ideas on what to buy for Raya, let us help you out:
5 Homegrown Brands That Speak To Your Inner Shopaholic