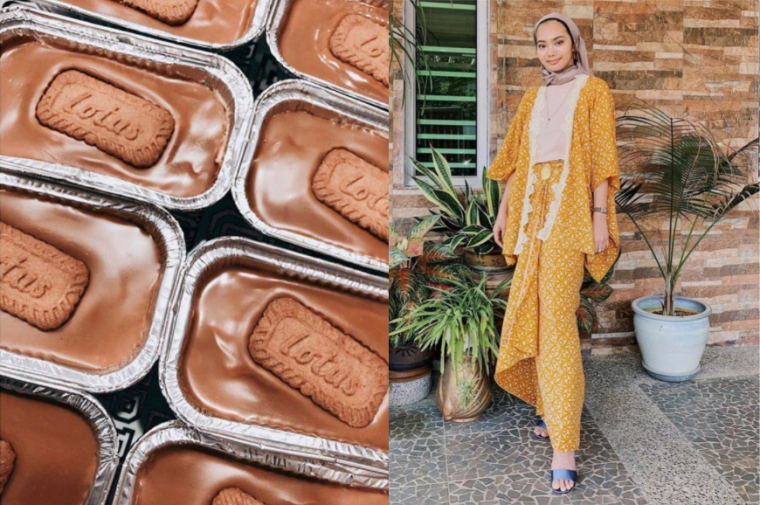 Ramadan Mubarak everyone! The fasting month is upon us again and with the start of this, we all know what that means: Raya is just around the corner! 
Yeah, yeah I get it. It's too soon to be talking about Raya and I'm not going to. Much. 
I'm here to expand your horizons on what our local business field has to offer these coming weeks and help you discover new shops that might turn out to be your favourites someday. I'm not talking about the ones you normally go to, rather the ones that are under the radar but deserve just as much love. In this pandemic, local businesses are struggling to stay afloat so I say we lend them a helping hand!
Check out these wonderful localites and give them a holler for your Raya needs and more!
AROMA Essential Care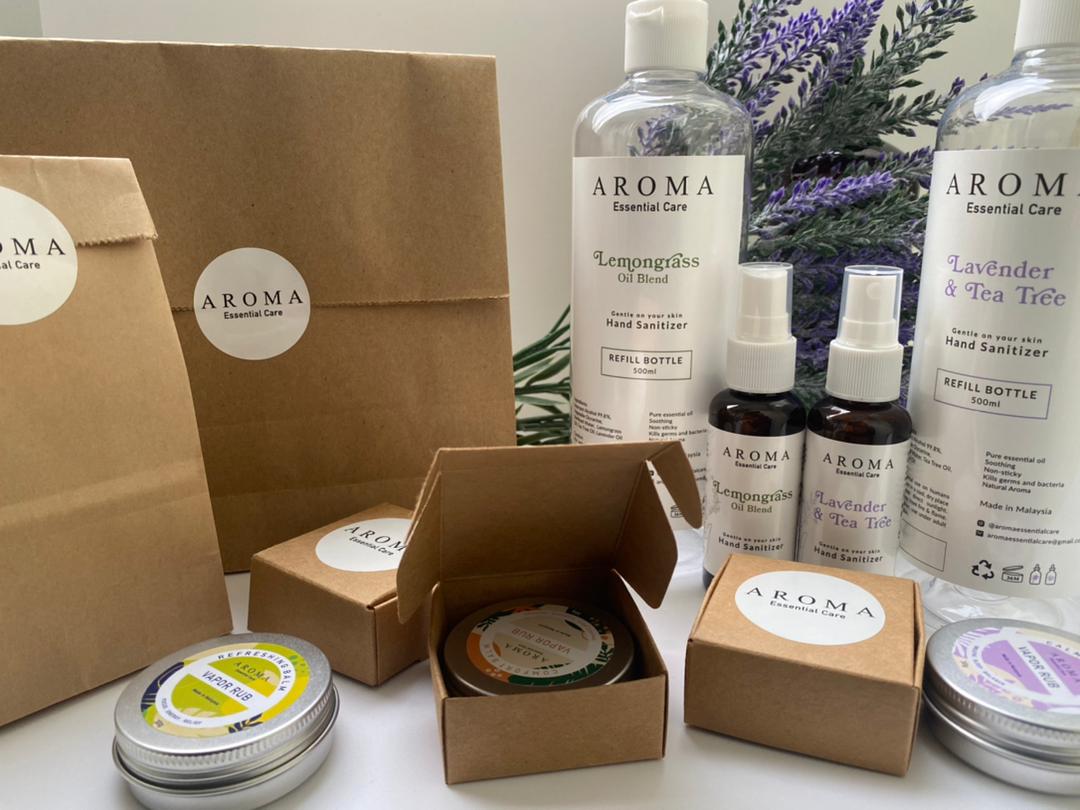 The first one on our list is a shop run by two sisters. They were established back in 2017 and firstly dealt in essential-oil-infused balms to help with headaches and nausea. Now, they've added hand sanitizers in their mix because they didn't initially like the ones sold in the market, saying that they're too sticky and make your hands smell strongly of alcohol even hours later. Their sanitizers are kinder to the skin and the scent of lemongrass and lavender lingers in the air after you've put them on.
Verdict: The balms they sell not only does the job of getting rid of my headaches and easing my period cramps but also smells really good. Their added sanitizers are not sticky and dry very well on the hands. 

You know what? Speaking of this, I'm going to stock up on them right now.

Price: Balms are RM12 and Sanitizers are RM10
Khatira Frozen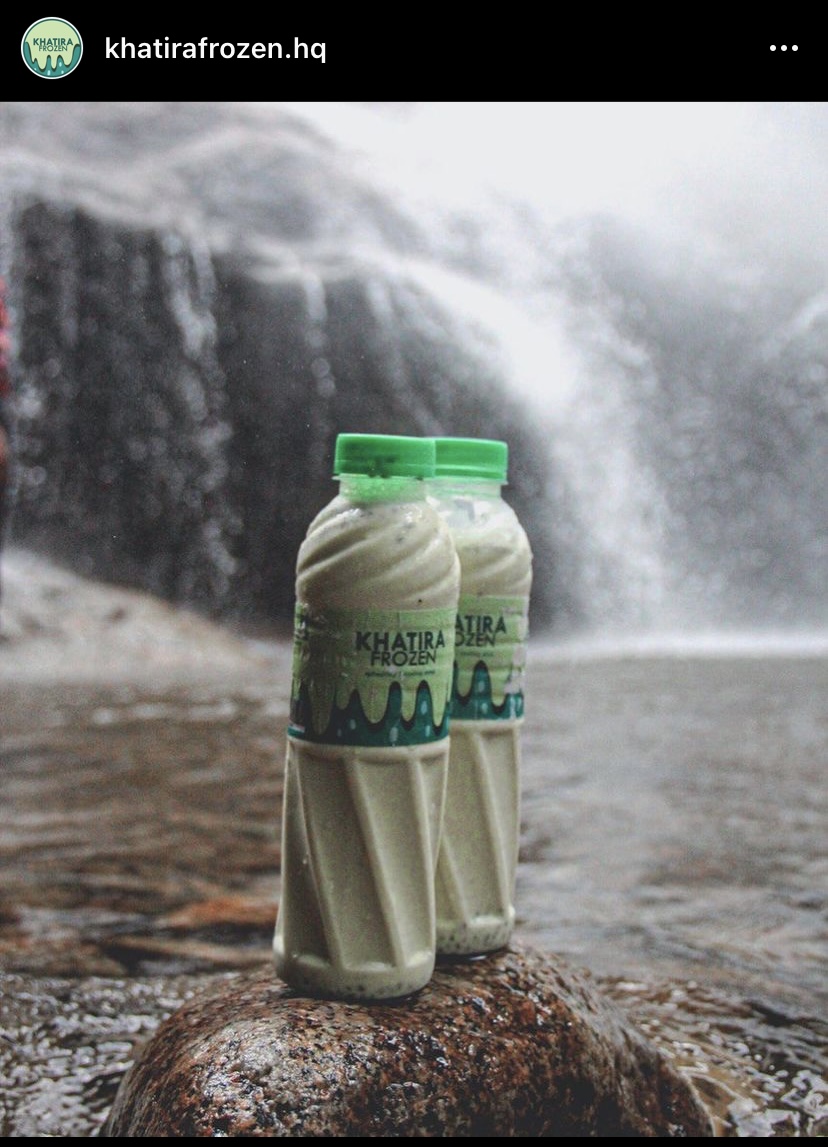 Made with all-natural ingredients, Khatira is basically a whole meal in itself. It's a milk based drink with ingredients such as buah kembang semangkuk (Malva nuts), basil seeds, Gon Khatira, sugar and water. The main ingredient in this drink is the Gond Khatira which is proven to have amazing cooling properties. Paired with this hot Malaysian weather, Khatira drinks can help cool you down pretty quickly.
Now that it's Ramadan, a bottle of Khatira would be especially great for you to have when you break fast if you struggle with indigestion and heartburn. It is also proven to help with digestion, so if you have any stomach issues, have a bottle of this to help ease it up. 
Verdict: To put it simply: they're very filling. I had a bottle of this back when I ganti puasa a few months ago and didn't even feel hungry afterwards. I guess it's the combination of the seven ingredients that are in the khatira that made it so solid. It's also not overly sweet, which I appreciate because I don't have that much of a sweet tooth. 

Price: RM6 per bottle

Where to Find: Instagram or Whatsapp at 015-33972.
Softique Clozet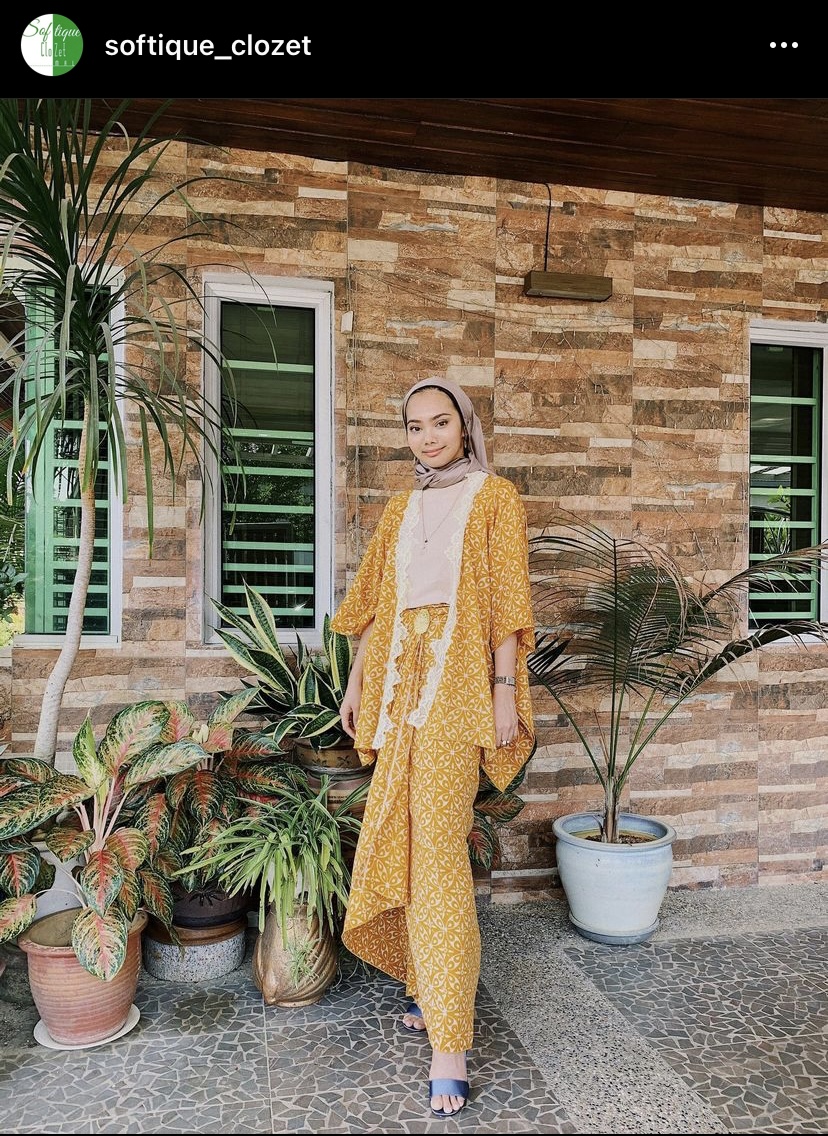 Get a head start on your Raya shopping and be the prettiest bell at the ball. Softique Clozet offers an array of baju raya styles and colours for you to choose from. They specialise in pareo style of clothing which, I think, makes it easier for you to shop for sizes since it's one size fits all. For those of you who are unfamiliar with pareo, it's basically a kind of sarong made of a single straight piece of printed cloth.
If you want to look at the baju raya choices up close, they have a physical shop in SACC Mall you can check out. Or you can hit them up on Instagram or Facebook to make your order if you prefer shopping online. 
Verdict: I bought one of their baju raya for Eid last year and got so many compliments on it. They even send you a video tutorial on how to wear them since it's pareo and you might need to twist and turn a little bit. It takes a little bit of effort, but the result is just *chef's kiss*. 

Price Range: RM40 – RM200
Oops! The Baker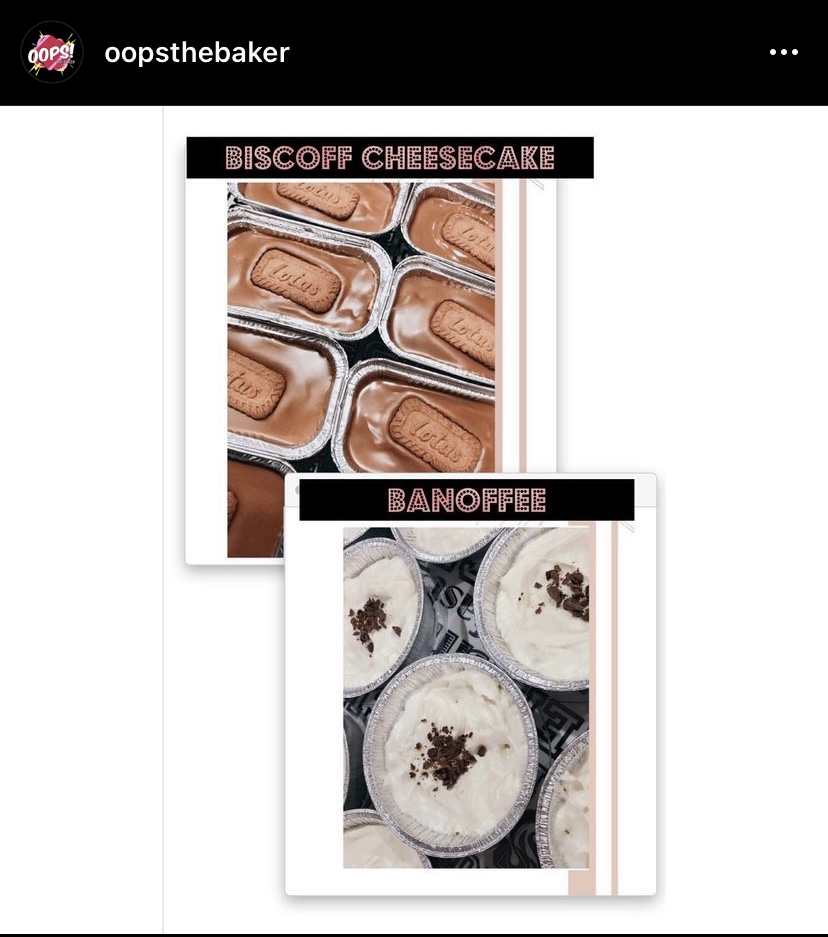 If you crave for homemade desserts this fasting month, Oops! The Baker has got your back. They offer choices of cheesecakes, brownies and other desserts that just make your mouth water. All of them are homemade and very well done, may I say. Based in Petaling Jaya, you can DM them on Instagram to make an order and they'll send it over via Grab or Lalamove. 
Verdict: The desserts that they make aren't overly sweet and they don't have the aftermath of making you nauseous like some desserts do. You know what I'm talking about? The loya element of it. I really liked their desserts and I full-heartedly recommend them, especially the Biscoff cheesecake. I'm drooling just thinking about that one!  

Price: RM36 – RM58

Where to find: Instagram
Azorasen.co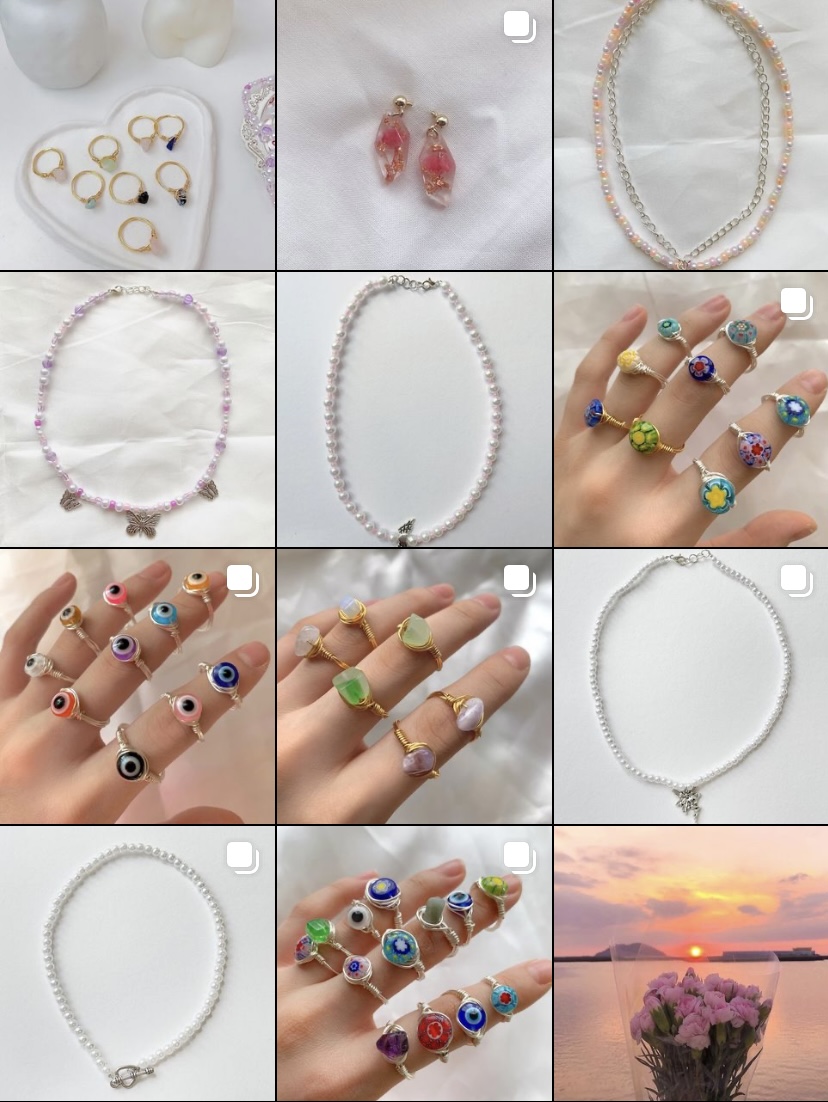 Looking to look cute and snazzy this Raya? Doll yourself up with Azorasen's handmade accessories! They offer a range of rings and necklaces to keep you looking sweet and fresh! You can place your orders on Instagram and if your order reaches RM100, you get free shipping! 
Verdict: I saw them on TikTok and thought that it was really adorable that they make rings out of stones. When I looked them up on Instagram, it surprised and excited me that rings aren't the only ones they make. Necklaces and bracelets are also included in their shop. They also make bookmarks and combs made out of resin and they're all so pretty! 

Price: RM18 – RM30

Where to find: Instagram
The aftermath of the MCO has seen businesses go astray and it's up to us as a responsible and unified nation to make sure our local business field doesn't die out someday. There are a lot more businesses you can check out to help upkeep the local market. After all, there's a lot more to #KitaJagaKita than fighting a virus.
So in the spirit of Ramadan, let's all remember that this month is all about counting our blessings and helping out whenever we can. We at The Full Frontal wish all our muslim friends a blessed month ahead and selamat berpuasa!