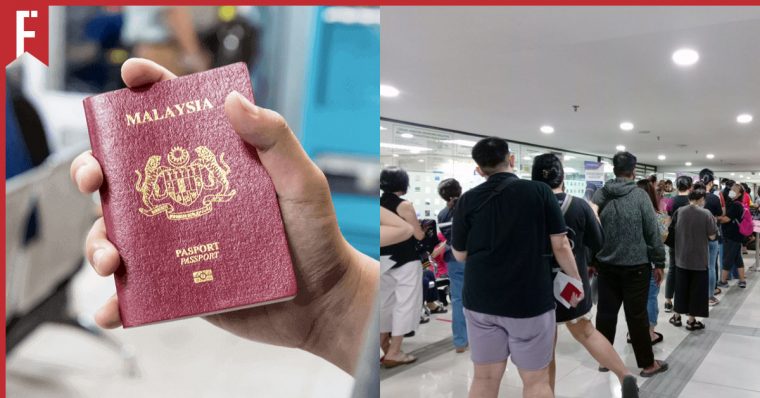 I'm sure by now you've heard so many horror stories about passport renewals.
Remember the good old days when we used to just walk into the immigration office and walk out two hours later with a brand new passport? Well, so do I.
But ever since the pandemic and over two years of people not travelling, the immigration offices were sort of… abandoned, if I can use that word. And when it reopened along with the borders to the outside world, Malaysians were more than excited to start moving around again. But the thing is, for some reason, the immigration offices couldn't function as they used to. And a lot of people are very much not happy with it.
And I'm one of them.
One thing you should know about me is that I absolutely despise waiting. I hate it so much that if I see more than three or four people in line for something, I immediately leave the premises. So why, pray tell, did I look at the (atrociously long) line at the Urban Transformation Centre (UTC) in Pudu and thought to myself, "yeah, I can do this."?
Hi, I am a Malaysian passport renewal survivor. And this is my story.
You Might Be Wondering How I Got Here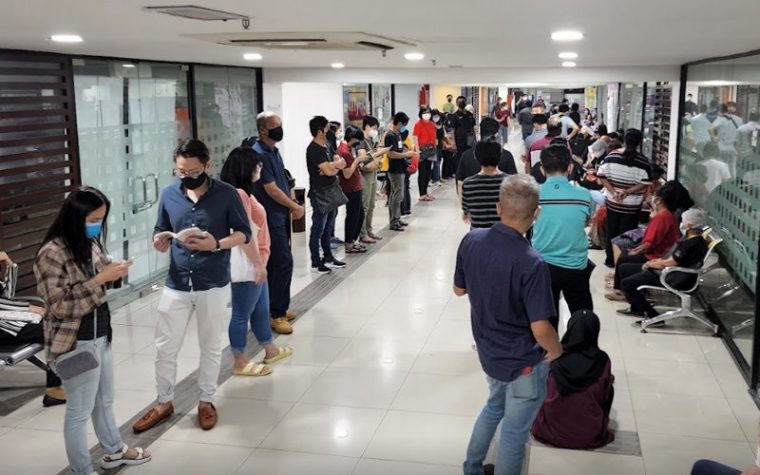 Don't worry, it's somewhat of a happy ending. The "happy" being that I did finally manage to secure my passport — even though the journey was extremely exhausting. However, I didn't get it done on my first try. Nor did I get it done on my second, third and even fourth try. But hey, fifth times the charm, right?
The first time I tried to apply for my passport, I went to the immigration office in Jalan Duta at around 9am, saw the stretch of people from the entrance to the escalators and sharply turned around and made my way back home. I told myself that I was not going to go through with that that day. The second attempt, I went to an immigration office in Shah Alam. Why? Because I'd like to see if travelling farther from where I lived would make a difference. It didn't.
The line was shorter than the one in Jalan Duta, but still pretty long. There was an officer using his "big boy" voice to yell instructions at people and reminding them to keep their distance. When I asked where the number counter was, he looked at me with pity and said, "dik oi. Semua online dah ni. Dah register ke belum?" I blinked at him in confusion. I'm sorry, I didn't know we had to register first before coming here.
Where would I even get this information from? Usually when I wanted to renew my passport, I'd just… go and do it. But with the new normal, comes new rules, I guess? So I left, disappointed and confused but also determined. If it's online, it'd be easier, right?
Wrong.
The first online registration was a bust because the system told me that my thumbprint was faulty, so I had to go there myself. And long story short, there was a little problem with my thumbprint that was finally settled after four days (wow, what a short amount of time).
When it was settled, I immediately went to the immigration office with my old passport, my IC and my receipt like they asked. But what was surprising was that I still had to wait in line for it to be "ready". Why did you send me an email asking me to pick up my passport then? Wouldn't it have been easier to just walk in if I had to do the whole process again?
The Waiting Game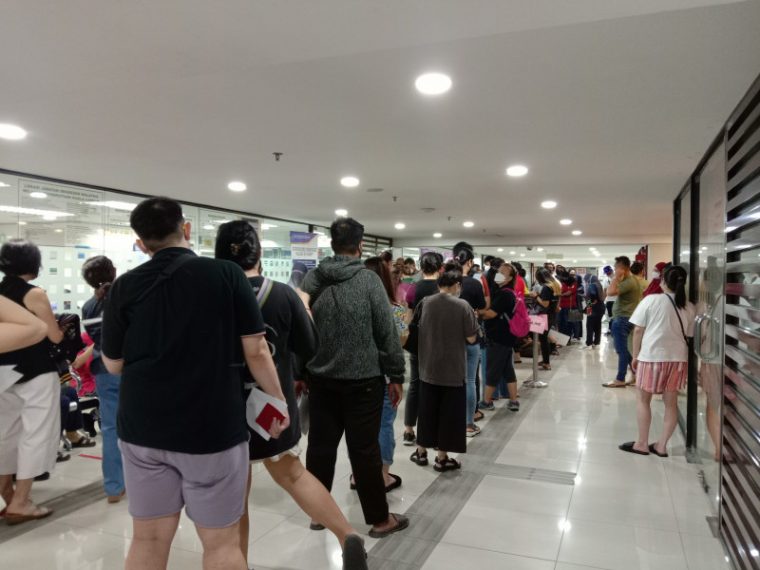 What they don't tell you about adult life is that a lot of it is just waiting.
Waiting for your coffee order at the ever so slow Starbucks (yes, I'm name dropping because y'all are honestly so slow with your service and need to up your speed game a little), waiting in line at NSK when there's only three registers open and about a thousand people ahead of you. Waiting in the Malaysian traffic on your way home and finally, lookee here, we've unlocked a new level — waiting for your passport to be done.
On my fifth UTC visit was when I finally managed to acquire a new passport. It took so many days of leg cramps and frustration but hey, at least it's over. I feel like I'm a veteran at this now and I can pass down my "advice" and experiences to you. So now it's your turn to go through it.
You see, the thing is, I complain about it as if I'm the only one who's been through this. I'm not. Everywhere online you can see people queuing for hours and hours for their passports. There were fights breaking out at certain immigration centres and you see people running into the immigration centres the moment they opened just to be first in line. It's a little jarring, really to berebut for your right to get a passport on time.
Some people would argue that we should be grateful that our passports are "fast" and could be done in one day. "Other people in other countries have to wait weeks for their passports to be done!" Yeah okay, but are we also not waiting weeks now?
I mean, once you've filled up the online form and printed out your receipt, they still tell you to wait until you get the email from the immigration office before you're allowed to go there, don't you? So what difference does it make? There are people who have stated that they'd been waiting for a month but they still have yet to receive the email. So what do they do? Just… go?
The First Step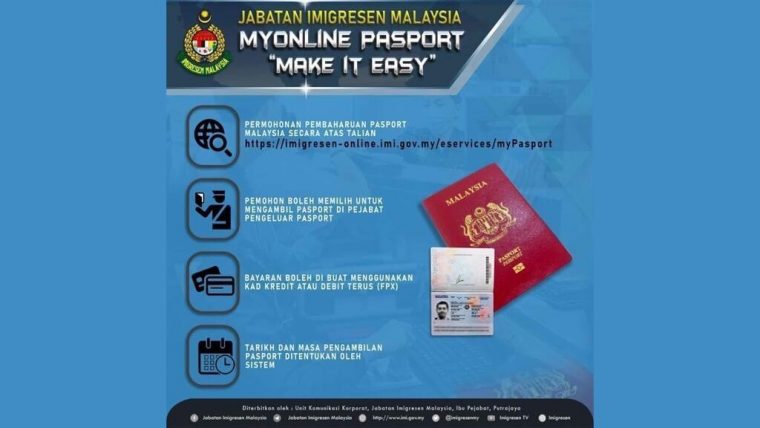 Turns out, that's exactly what you needed to do. But before going though, here's a few simple steps on applying for your passport renewal. Like Officer "Blair Horn" said, "semua dah online, dik". So, you can apply for a passport renewal at MyOnline Pasport.
But before you click on that site, what you need is a picture of yourself to upload onto the system. It's not just any picture and certainly not a picture of you that you captured yourself (although, admittedly that's what I did at first). If you post a selfie onto the site, they'll tell you to take another one because it doesn't fit the requirements. Trust me, I've been there.
The requirements for your passport picture are as follows:
Background must be white and without shadows. Coloured backgrounds will not be accepted.
Applicants are required to wear dark clothing and covering shoulders and chest.
Applicants who wear a scarf or hijab are required to wear dark-coloured scarfs or hijabs and it is not covering the face.
Uploaded photo must have been taken at a professional photo studio. The uploaded soft copy is required to be in the format provided by the photo studio. Polaroid pictures will not be accepted.
After you've filled up the form, you need to check if all your information is correct and pay for the passport via online banking. When all that is done and checked, the last thing for you to do is to print out your receipt.
The receipt is what you have to bring with you along with your old passport and your IC. They tell you you're supposed to wait for the Malaysian immigration to send you an email about when your passport is ready to be picked up but honestly, if you waited for longer than three days and still have yet to receive an email, you can just go to the immigration office that you've chosen.
There's also mention that applications made before 3pm on a working day will be available for collection on the same day. I don't know, I guess you should just try your luck the moment you get the receipt. But any other information regarding the passport renewal can be found on malaysia.gov.my.
If you think it's a hassle to do this and that it'll be a lot better to just be there in person, I don't know what to tell you because according to the immigration website, ever since 9 May 2022, they will no longer be accepting any walk-ins.
So you'd have to apply for your passport renewal online whether you like it or not. Many Malaysians (including you) don't really get the memo because when I was lining up there, my passport and receipt soaking up the sweat on my palms, there were a lot of people who didn't apply online and came in empty handed, lined up for hours only to be turned away.
However, there are exceptions to this rule if you fall under any of these categories:
People applying for a new passport
Senior citizens (60 years and older)
Special needs individuals (must bring Social Welfare Department registration card)
Children who are less than 13 years old
People planning to perform the Haj (must bring the Tabung Haji offer letter)
Students (less than 21 years old) planning to study overseas
People who lost their passports (will require a police report)
People with damaged passports
In my opinion, the problem here isn't the online process. It's what comes after it. The online process was easy (suspiciously so). Which kind of deluded us poor, naive folks into thinking that the remainder of the process was going to be as simple as that as well. But unfortunately, life here isn't that simple.
The Hard Step
I went to over five UTCs and immigration offices, okay. Even the one in Hulu Langat which is over an hour and a half away from where I live. Just so I can get my passport done. Do you see how gigih I was? I'm pretty sure I'm a pro at this already. Which is honestly such a sad thing to be a pro at.
After the third visit and more or less 16 hours of waiting in line, I more or less figured out the pattern of how the lines work. I could more or less gauge when I should reach the office to not be stuck in a long line. I thought that if I wanted to be the first one at the door, I should have woken up at 5am or something. Because even when I arrived at 7am, way before the office doors opened, the line was already halfway in the parking lot.
The good news is that the hours of UTC and immigration offices have been extended to 10pm nationwide… except for the ones in Penang, Kedah, Perak, Kelantan, Pahang, Terengganu, and Perlis, which only extends until 6pm.
Regardless, I offer you prayers for your passport journey and may you be filled with endless patience while you wait. Maybe bring along a book and a snack. Because boy, you'll be in there for a while.
Skip The Queue, Travel Malaysia La Dulu
With that being said, the appeal of going overseas may have lessened for some people. For the time being la. If you're still keen on travelling and would still like to attempt to brave through the throngs of people to get your passport done, I applaud you, brave soldier. But if you're not, that's also okay. There are other places you can travel to that don't require that much effort.
If you'd like to travel but are kind of dreading overseas or making a passport after the horror stories you've heard, why not do some travelling in your very own Malaysia Truly Asia?
I Travelled Across Peninsula Malaysia & So Should You