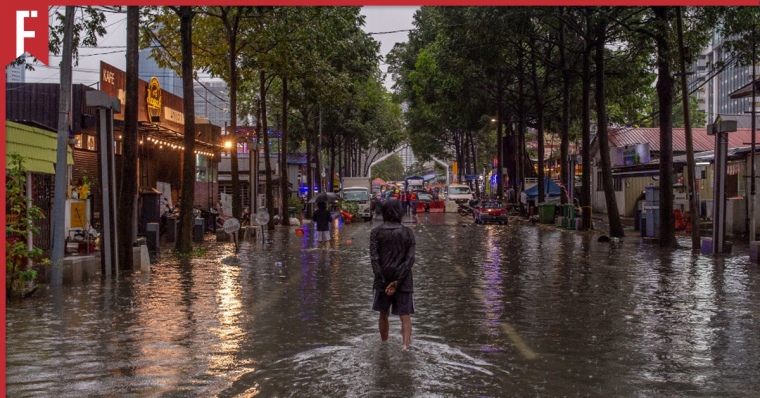 It's that time of year again, folks. When the average Malaysian stops complaining about how hot the sun is to turn around and start complaining about how much rain is pouring down instead.
That's right, it's flood season again! And buckle up because this year is promising to be a doozy.
Another Long, Wet Year End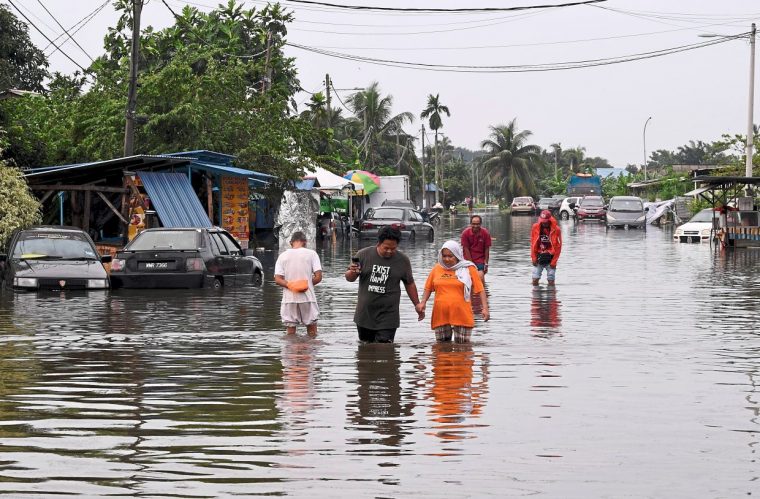 If you've lived in Malaysia long enough, you've probably learned by now that we get floods every year. But lately, things have started to get a little more intense than usual.
Just last year (December 2021), at least 55 people were killed after KL was hit by one of the most devastating floods in recent history. Local residents barely had enough time to clean the remnants of the previous flood before getting hit by another series of flash floods just three months later.
And according to the Malaysian Meteorological Department (MetMalaysia), we're about to go through it all over again.
In September 2022, MetMalaysia Director-General Muhammad Helmi Abdullah warned that major floods are likely to occur later this year due to heavy, continuous rain brought by the northeast monsoon. Thanks to the La Nina phenomenon (a weather pattern that occurs in the Pacific Ocean), this intense weather might last all the way to early 2023.
"It (La Nina) occurs between November and December, marked by more humid weather, especially in the east coast states like west Sarawak and east Sabah," he said. "Rain usually happens in the morning in these states, followed by thunderstorms in the east coast and interior of Sarawak and east Sabah." .
Are You Living Near an "At-Risk Area"?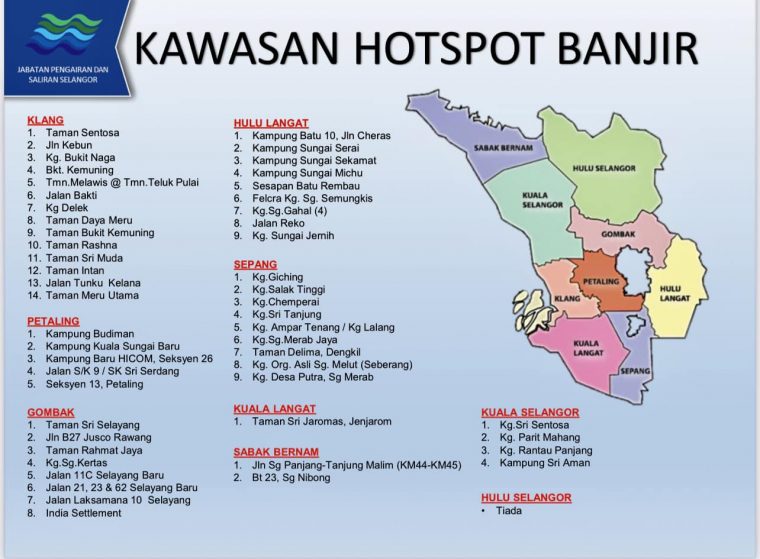 According to the National Disaster Management Agency (Nadma), eight out of nine Selangor districts have been identified as flood-prone hotspots:
Klang
Petaling
Gombak
Hulu Langat
Sepang
Kuala Langat
Sabak Bernam
Kuala Selangor
In September 2022, the Drainage and Irrigation Department identified 52 hotspots and 307 at-risk areas in Selangor alone!
For those who aren't familiar with the difference, at-risk areas are places where flooding has occurred previously while flood hotspots are areas which have experienced flooding more than three times since 2019.
So What's Our Government Doing About It?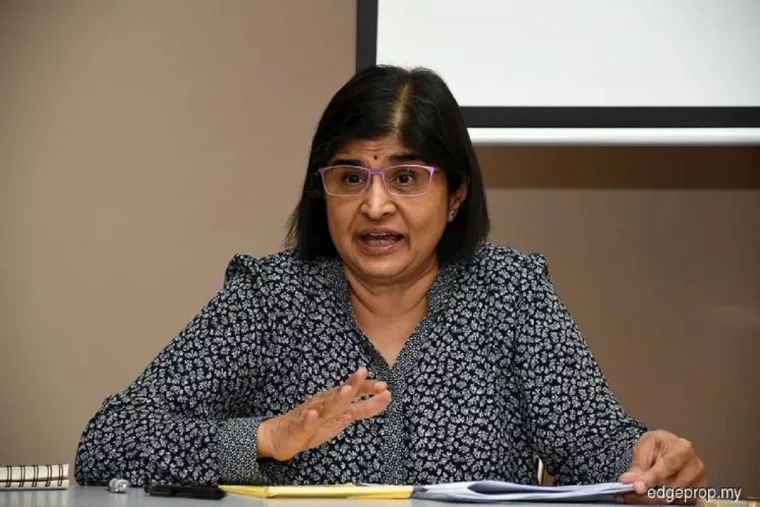 Even a small flood can cause a lot of damage. The floods which hit our country last year caused more than RM6.1 billion in total losses and over 500,000 displaced people.
To stop it from happening again, our government is doing… something? Well, we hope they're doing something at least. But up till now, everything's been kept so secret that a group of KL residents have threatened to sue Kuala Lumpur City Hall (DBKL) in order to get any information on flood mitigation plans for this upcoming monsoon season.
One of these soon-to-be suers is former Malaysian Bar Chairman Datuk Ambiga Sreenevasan, who helped to write the letter of demand that was submitted on 21 September 2022. In the letter, the group explained that DBKL's flood mitigation plans should be made available to the public in order to determine if they were adequate as well as provide any necessary feedback just in case.
"Such transparency of information is crucial for public awareness and to enable public participation which, in turn, is a cornerstone of good public policy-making. This is especially important for an issue as serious as floods, which has caused untold destruction to lives, livelihoods and property in KL in the past," they stated.
We Already Have Plans, But…
One of the reasons why these residents are threatening to sue is because DBKL actually created a Master Plan back in 2017 to prevent flash floods. This plan involved 104 flood mitigation plans with 25 catchment areas to ensure that any sudden downpour could be drained properly instead of flooding the streets.
However, according to the Audit-General's Report published last month, only 8 out of the 104 measures have been implemented by the DBKL so far.
According to the resident's letter, "DBKL's response to the A-G was that another 22 flood mitigation measures would be implemented in 2022. Hence, the KL residents are now requesting to know the current status of the said 22 flood mitigation measures."
In the Meantime…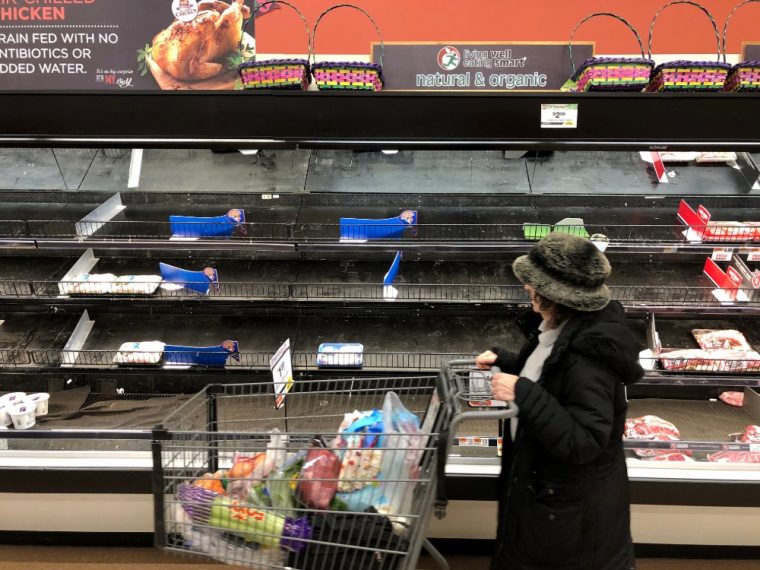 While DBKL is still planning their response, Deputy Domestic Trade and Consumer Affairs Minister Datuk Rosol Wahid announced his own plans to ensure that Malaysians won't starve even in a flooding scenario.
According to his announcement on 20 September 2022, this initiative grants permission to selected district producers, wholesalers and retailers across the country to keep additional stock in preparation for disasters and emergencies.
"This is an early preparation, so that when disaster occurs, the people are not affected in getting essential goods," he said. "We not only monitor controlled items but also items that are in high demand during floods such as instant noodles, lamps, medicine, disposable diapers and so on."
Could We Get Rid of Flooding Forever?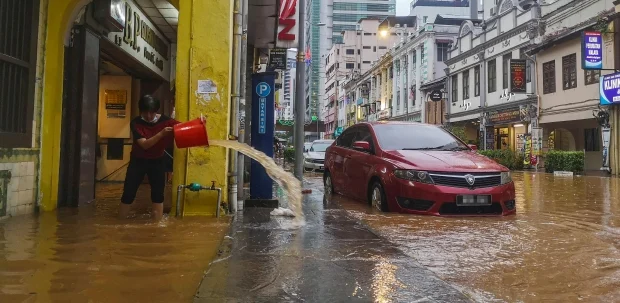 The good news is that experts believe that we can deal with our flood problem. The bad news is that it would be very expensive.
According to Minister of Environment and Water Tuan Ibrahim Tuan Man, dealing with Malaysia's flood problems would require a hefty bill of nearly RM400 billion.
"For long-term measures up to (year) 2100, the ministry estimates an allocation of RM392 billion is needed to overcome flood problems in Malaysia," he said. "This cost estimate, among others, includes the main components of flood mitigation and urban drainage amounting to RM230.71 billion and coastal infrastructure amounting to RM126.55 billion."
In the meantime, it seems (unfortunately) that we will all need to get used to flooded streets and rising waters coming back year after year. To learn more about dealing with Malaysia's flood season, check out:
What Have We Learned From the Recent Floods in Malaysia?