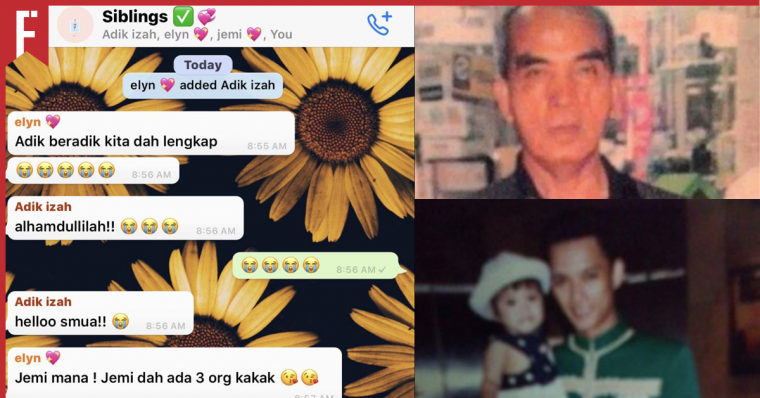 Ah social media. Both a loved platform as well as a questionable one. It's where you go if you want to look for information — you can literally find anything from new cooking recipes to stalking your ex-boyfriend's best friend's brother.
Like I said, literally anything. And dear God, you would surely find some truly dubious things too. Especially nowadays. Sigh, it has it been a rough couple of months (read: years) online, hasn't it? You open social media je, mesti ada some shocking new information ready to be consumed.
So in light of all the truly depressing news circling around, let's turn the spotlight on some of the brighter side of social media, shall we? It doesn't have to be a cold dark place all the time. Sometimes, it's a place full of hope and a place that brings people together in the best way possible.
A Girl Found Her Father Through Twitter's Help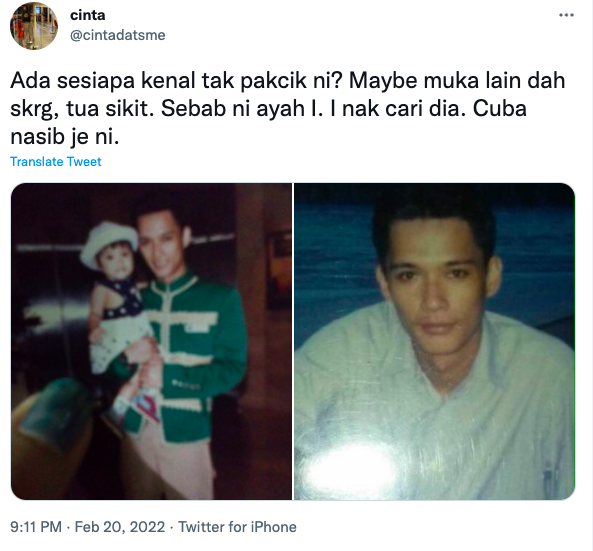 A recent story that took the online world by storm was of a girl called Cinta who posted on her Twitter asking around for her long-lost father.
Cinta had been separated from her father since she was two years old. She had started to look for him when she reached the age of 18 and just recently started to actively search for him again. After no leads for all those years, she turned to social media as a last resort. 
She posted a picture of her and her father when they were younger with a caption that read, "Does anyone recognise this uncle? Maybe he's changed a bit, a little older. This is my father. I'm looking for him. I'm just trying my luck."
In less than 24 hours, Cinta received over 4,000 shares on her post. People were very eager to help find her missing father. Not long after that, a comment under her post caught her eye when someone said that they recognised her father. I'd say it's a testament to how fast people online work when we hear a story that tugs on our heartstrings. Can you believe that this all happened in the span of less than a day?
On the morning of 21 February 2022, she posted a screenshot of her video conversation with her father with the caption,
"We've found my father. MY grandmother cried. THANK YOU, PEOPLE OF TWITTER. Next mission is to save money to buy tickets to Sabah!"
Isn't that a sight that just warms your heart?
Long Lost Siblings Found Their Way Home To Each Other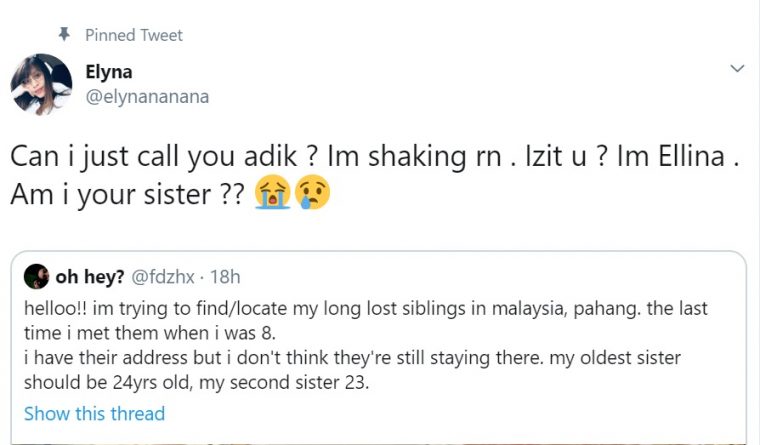 That's not the first time that people online helped a fellow Malaysian find a lost loved one.
Another similar story happened back in 2019 when a Twitter user named Izah, who was about to get married, expressed her deep longing for wanting to see her long-lost siblings.
She was separated from her siblings for 14 years, saying that the last time she ever saw them was when she was eight years old. In her tweet, she mentioned that she has their address but wasn't sure if they still lived there. She also gave out her two sisters' ages just in case anyone had any information about them.
Before going to Twitter, she had asked for help from legal officials like Jabatan Pendaftaran Negara (the National Registration Department or JPN) but had not gotten the answer she wanted. But after going to social media, she managed to find her siblings in just 11 hours. How amazing is it that it took the internet only a few hours to locate someone?
With the help of people spreading her tweet, Izah's sister, who goes by Ellina, reached out to her on Twitter, introduced herself, and asked if she could call her "adik".
Izah posted an update about the whole situation with a screenshot of their new siblings' group chat and I'm not going to lie, it made me ugly-sob for quite a bit. It's just such a beautiful thing when you finally get to see your loved ones after years of not knowing where, or even who they are. It's nothing short of a miracle that they made their way back to each other.
A Girl Found Her Long-Lost Father in Singapore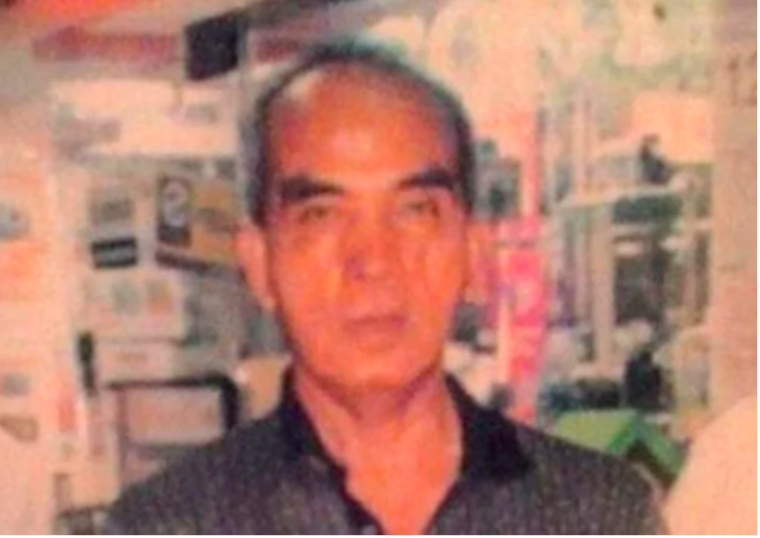 No, we're not done with the tears yet. I've got one more story for you.
This particular story revolves around Khazimah Ali, who turned to social media in order to find her father, Ali Jais. She had been separated from her father for nearly two decades and had no information regarding him at all. All Khazimah knew was that he was last seen in Singapore, where he was working at Beach Road.
Similar to Izah, Khazimah had tried other options to trace her father's whereabouts such as going through the Malaysian Immigration Department records some years ago. Through there, she found out that her father was in Singapore, as per his last record, and it didn't seem like he ever left.
So after reaching a dead end, she decided to post a photo of her father on a Facebook page called Malaysia-Singapore Border Crossers to look for him. People started sharing her post, urging their friends, families, and followers to help keep a lookout for Khazimah's father.
After a while, Khazimah was contacted by a person who saw her post and told her that they found her father who was residing in a care home in Singapore. The nursing home was able to verify Mr. Ali's identity via a copy of his IC that her older sister had.
When asked, Mr. Ali still remembers all of his children's names! How touching! And impressive seeing as throughout her life, Khazimah had only met her father a total of 10 times before she lost contact with him. She expressed her dream of wanting to celebrate Hari Raya with him back in 2020, and oh man, that made me tear up thinking about that reunion.
Imagine not seeing your dad in years and then finally being able to tangibly, physically meet with him? Pass me the tissues, please!
The Power of The Internet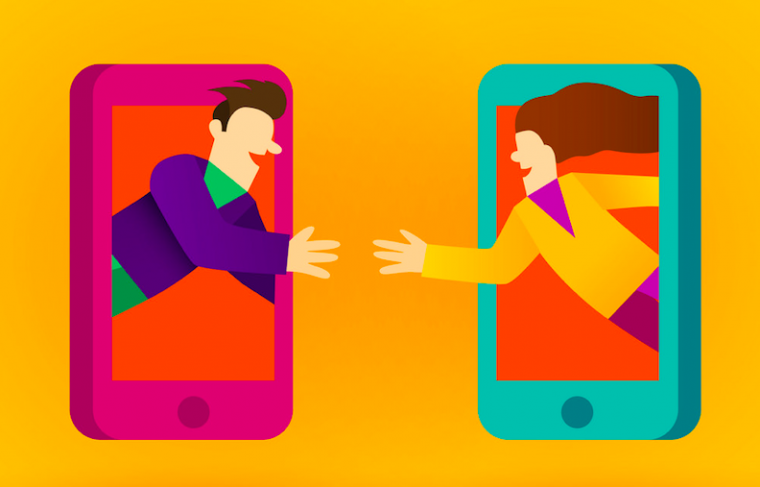 The internet is indeed a wonderful place. You get to see people band together to do such good things in the name of love. And it just makes you all the more hopeful for the human race, doesn't it?
If you'd like to join me in crying more buckets of tears for the kindness of humans, read up on:
5 Kind Acts That Give Me Hope For Malaysia