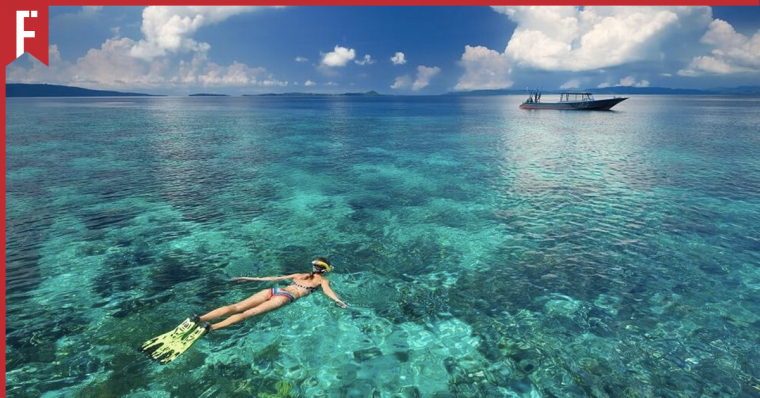 Alright guys, y'all know what time it is. That's right, it's island time! We've swam through the coasts of Johor and dived in Terengganu's beautiful crystal clear waters. Now, it's about time we pay attention to the islands of Sabah.
Are you excited? I'm excited. I've never been to Sabah before. But I've heard very many great things about their waters. So take this as a kind of guide to a place that I want to (and will) go to. Wouldn't you be excited too when faced with new opportunities to explore the beautiful oceans of Malaysia?
So let me take you on an adventure. A bird's eye view, if you will, on some of Sabah's most beautiful islands.
1. Mabul Island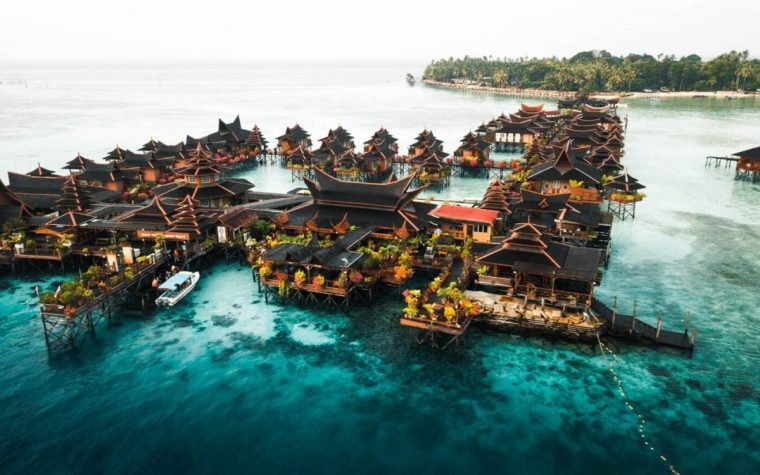 Mabul is a small island off the South-Eastern coast of Sabah in Malaysia. The island has been a fishing village since the 1970s, so y'all just know that it's a favourite diving spot for divers and fishermen alike. Think of how many different kinds of fish you can discover (and I don't even mean just for eating).
The island and its waters are so beautiful! The water's so blue and clear from above. But according to the Mabul website, it's a popular place for muck-diving (a term used to describe limited visibility dives at shallow sites with usually sandy bottoms).
I've never been muck-diving before but I heard that people go muck-diving here to take pictures of rare and unique fish and sea creatures that live in the shallows of these waters.
The island kind of reminds me a little bit of Maldives. Especially how the hotels stretch across the sea. Where you wake up every morning to the sound of flapping wings and ocean waves. Oh my Goodness, I can just imagine the peacefulness of the whole place.
2. Lankayan Island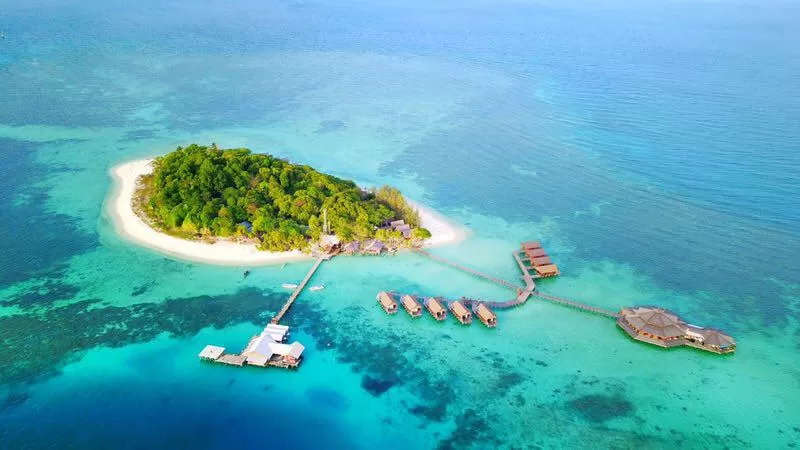 Have you seen the movie Fantasy Island where a bunch of people were brought into an island that can grant their deepest desires? Just looking at the pictures of the island online, it kind of makes you think that it was a real place and that Lankayan island was where it's at because of how beautiful and fairytale-like it looks.
Lankayan Island is a small tropical coral resort island in Beluran, Sabah in the Sulu Sea. The only resort on the island is Lankayan Island Dive Resort and was built back in 1997.
I've been told there are a lot of sunken wrecks down at the bottom of Lankayan Island. What if there's gold in there? Ain't that a great place to dive and explore.
On top of adventurous diving sites, Lankayan Island has many species of attractive flora and fauna that you can discover too! If you're more of the landed type than a water person, I'd suggest you look around the forest the island has to offer.
But why choose when you can do both?
3. Mataking Island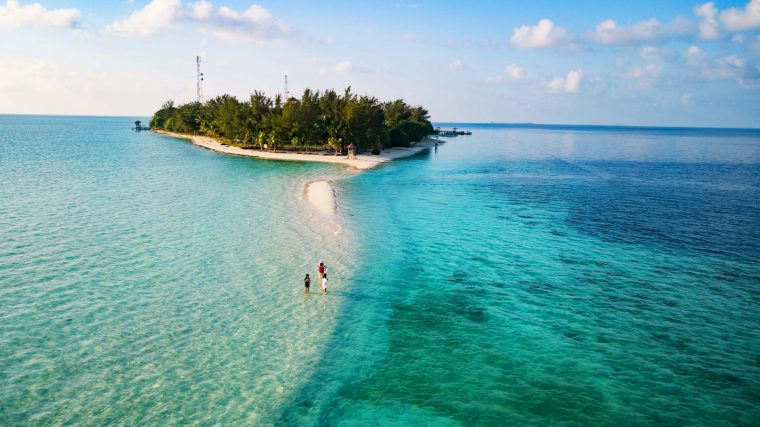 Mataking Island is located in the Celebes Sea in Sabah. It is home to the first ever "Underwater Post Office" in Malaysia. Yes, literally, a post office underwater. The island's resort purposely sank an old cargo ship to make it happen.
The cool part is that you can actually send letters via the post office when you go diving. No, not to mermaids or other sea creatures to find and read, to actual people. To send a letter, you can purchase a postcard from the resort gift shop and they'll seal it up in a waterproof bag for you to bring to the underwater post office. The mail box will be cleared twice a week for delivery.
The island is also connected to Pulau Mataking Kecil via a narrow sand bank, so when the tide is low, you can even walk over to the small island and chill there. I feel like this is going to be an experience one can never forget.
It's been said that walking along the sand bank gives you the illusion that you're walking on water. How cool is that? It's like you get to embody the "living my best life" poster you have on top of your bed. I mean, who else can say that they've walked on water before?
4. Bohey Dulang Island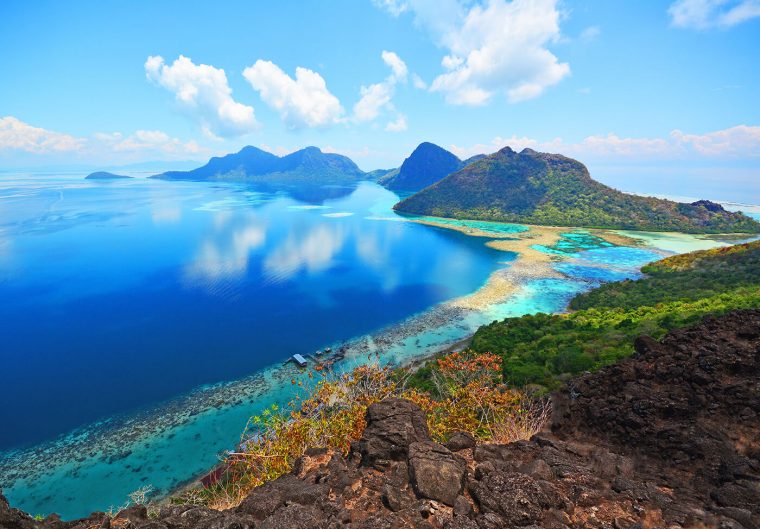 There's actually a really interesting story behind Bohey Dulang Island. I've never heard of any other "urban legends" coming from the other Sabahan islands so when I heard about this one, my ears kind of perked up.
Legend has it that Princess Salamia from Bum Bum Island in Semporna was hidden by her family in Bohey Dulang. She went into hiding to avoid an arranged marriage to an ill-famed Sultan from the Southern Philippines. As the story goes, her disappearance was explained to the people by saying she was turned into a fairy and hidden by the spirits.
But putting old legends aside, scientists believe that the island was formed from remnants of volcanic activity. Bohey Dulang is the second-largest island amongst the Tun Sakaran Marine Park Islands.
It's considered a trekkers' and bird watchers' paradise, offering fantastic views from its 353m peak. So, if you're a bird watcher or a nature lover, book a trip to come visit this lovely island for some really cool wildlife discoveries.
5. Kapalai Island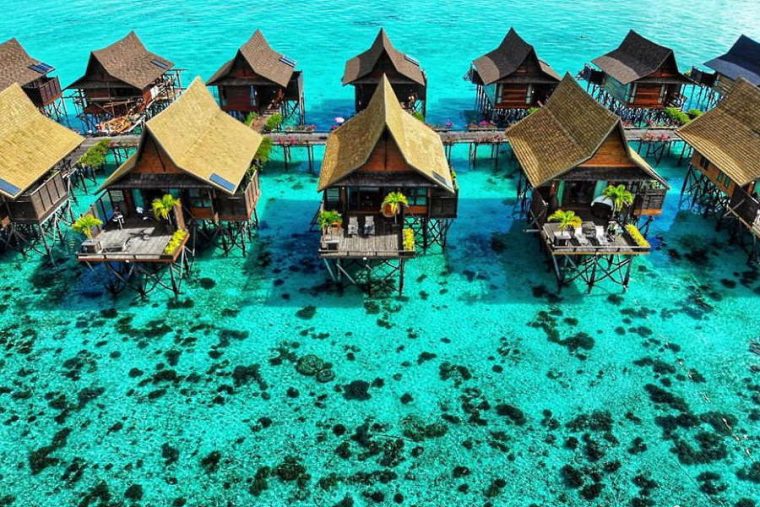 Kapalai is an island in Tawau Division, Sabah, that is famous for its scuba resorts. The island is just 15 kilometres off Sipadan. Two hundred years ago, it was said to be a beautiful island, but now it's only a sandbar.
I find this island excellently unique because there's not really any beaches or vast sandy surfaces, just tall houses on top of blue waters. And occasionally, when the tide is low, you can see little bumps of sand on certain stretches of water. In other words, this is a perfect diving village.
Dive spots are extremely close and you can reach them in just a few minutes by speedboat. Some of them are actually so close that you can just swim from the dive centre pier. But please be careful. If you are unfamiliar with diving, make sure you have someone there to help guide you. It's good to have fun, but remember to stay safe too!
Aside from that, the island has a mile-long sandbank of fluffy white "beach" where you can sunbathe while staring out to miles of clear turquoise waters reaching into the horizon, presenting the purest image of natural peace.
I know I've mentioned that Mabul was like Maldives but Kapalai's resemblance to oceans of Maldives is uncanny. And it's certainly a place where I'm putting on my bucket list right this very moment. Who says we have to go outside our country to experience nice beaches when we have beautiful ones right here?
Don't Walk, Run To Your Next Island Booking
I don't know about you, but I'm already looking up flights to go to Sabah and island hop. Although it's almost RM400 per flight ticket, and if you include the hotel/resort prices and the diving tours… it's a small price to pay for peace and mental freedom, methinks.
Those pictures alone are enough to sell me into spending at least a few weeks on the islands there. My wallet's looking a little thin, but hey, at least I'll be happy. Duit boleh dicari (I say this, repeating it over and over again to myself in front of my mirror).
That said, please also remember to stay safe and follow all the relevant SOPs. COVID-19 may be slowly waning, but there are other diseases to look out for as well. Yes, even while you're on vacation, you have to jaga-jaga. Don't let your guards down just because you're on holiday.
I'll see you all in Sabah soon, I'll bet. But if you prefer to go to other Malaysian islands first before tackling the Sabahan waters, I would suggest you check out:
These 5 Islands In Johor Are Your Next Vacation Spots